Better Together –
ComputerSupport.com Announces Merger with VP Solutions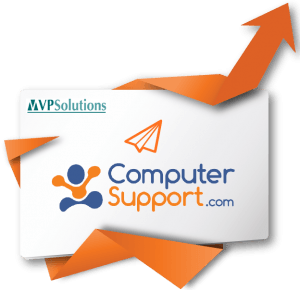 BOSTON, MASSACHUSETTS – September 30, 2014
ComputerSupport.com, a national provider of managed IT and cloud services for businesses, today announced a definitive merger agreement with VP Solutions, a Massachusetts based IT services provider with a strong presence in the legal industry. The merger will bring expanded technology and deliverable competences to both companies.
As a result of the deal, VP Solutions will be able to leverage ComputerSupport.com's wider breadth of product and service options to bring additional value to its' customers. Together, both companies' combined expertise will provide an even stronger offering: more engineering expertise, 24/7 proactive support, new cloud products and a variety of other improvements.
Vincent Peck, President of VP Solutions commented about the merger: "We feel strongly that joining forces with ComputerSupport.com will allow us to realize our strategic goals within the industry: their innovative technology solutions and their culture and belief in strong customer service will serve as a great addition to the strong foundation of services we have built on for the last 26 years."
"We're excited for VP Solutions to join our team at ComputerSupport.com. There are undeniable synergies between our companies, and a great cultural fit," said Kirill Bensonoff, ComputerSupport.com's Co-Founder. "Uniting VP Solutions' team with ours and combining our strengths will allow us to serve our customers better, and position well for the years ahead."
This merger will allow ComputerSupport.com to grow even more as we complete 2014. ComputerSupport.com reported a 45% growth in 2013; and in 2014, they have already received a Blue Ribbon Small Business Award, were named to 2014 CRN Next-Gen 250 list, were included in the MSPmentor 250 list and their IT AnyWhere Cloud is now featured on AWS Marketplace.
About ComputerSupport.com Founded in 2006, ComputerSupport.com's mission is to harness the power of technology and help business leaders get the most out of their technology investment, on-premise and in the cloud. ComputerSupport.com's award-winning products and services offer an end to end solution: ITAnyWhere Managed helps businesses better manage their IT, ITAnyWhere Cloud helps SMBs migrate to a turnkey, secure cloud, and ITAnyWhere Pro helps businesses with onsite support and professional services. For more information, visit our site or follow us on Twitter @csITsupport, #ITAnyWhere.