StratusPointIT expands presence in New England with acquisition of LightWire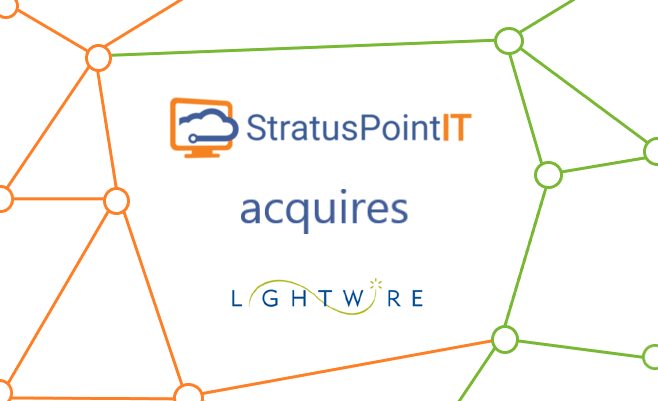 NATICK, MA (November 11, 2019) – ComputerSupport LLC, doing business as StratusPointIT, a national provider of managed IT and cloud services for small and medium businesses, today announced that it has acquired LightWire Inc., a Massachusetts based IT services provider with a strong presence in the New England area. This acquisition will further strengthen the engineering talent and provide a more robust service offering for the combined customer base.
Ian Findlay, President of LightWire, commented about the acquisition: "We're extremely excited to join forces with StratusPointIT so we can work together to help our customers realize the potential of their technology."  Ian will be joining StratusPointIT as their Vice President of Customer Success. In that role, Ian will be focused on further advancing the technology advisory services to a diverse customer base, from technical strategy and recommendations to ROI and IT spend analysis.
"We're thrilled for LightWire to join our team, as they have a loyal customer base and experienced engineering talent", said Eric Correnti, CEO of StratusPointIT.  Eric further stated "Both companies have close to a 15-year track record of proven customer success. Combining our talent will only deepen our commitment to servicing the growing needs of our customers. Our product is our people, and I'm excited to further expand our team and continue to provide exceptional service. We'll be concentrating our efforts on identifying and implementing the best of both organizations, a focus we believe will ultimately prove highly advantageous to the combined customer base."
About StratusPointIT
Founded in 2006, StratusPointIT's mission is to harness the power of technology and help business executives get the most out of their technology investment, on premises or in the cloud. The company's ITAnyWhere Support, ITAnyWhere WorkSpace and ITAnyWhere ServiceDesk products and services, along with key security solutions and advisory services, have helped hundreds of businesses stay competitive with the innovative use of technology.
About LightWire
Founded in 2005, LightWire focuses on delivering exceptional IT systems, services, and support that your business needs to thrive. The company supports businesses across the broad and robust industries of the New England market, inclusive of technology, manufacturing, education and life sciences.