StratusPointIT and Avail Technology Group combine to further expand its presence in New England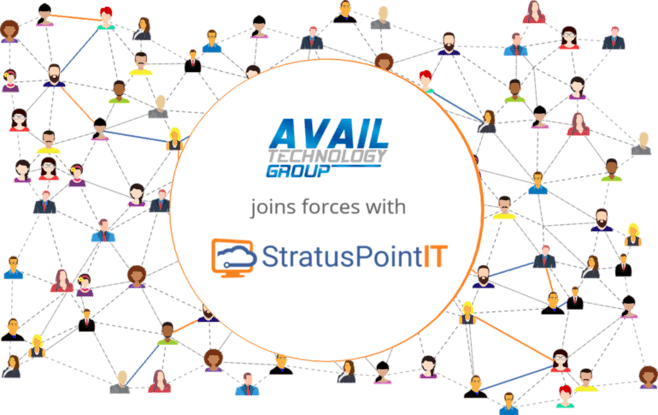 NATICK, MA (January 15, 2021) – ComputerSupport LLC, doing business as StratusPointIT, a national provider of managed IT and cloud services for small and medium businesses, announced that it has acquired Avail Technology Group, LLC, a Massachusetts based IT services provider servicing the New England area for over twelve years. The combination of these two firms further strengthens the commitment of providing exceptional IT services to a diverse and growing customer base.
Matt Serpone, President of Avail Technology Group, commented about the relationship: "We're extremely excited to be partnering with StratusPointIT and the customers of Avail will be well-served by the combined technical expertise and overall depth of the services." Matt will be joining StratusPointIT as part of their Customer Success Team providing virtual CIO (vCIO) services to customers.
"We're excited for Avail to join our team and this marks another advancement of our growth and loyalty in supporting the needs of our customers", said Eric Correnti, CEO of StratusPointIT. Eric further stated "Avail has a legacy of providing outstanding customer support, which is driven by a talented engineering team and a loyal customer base. Matt and I realized it was undeniable how synergistic our approach to IT services were and how important our employees played into the success of our customers.  Combining forces was a logical and natural step in our partnership."
About StratusPointIT:
Founded in 2006, StratusPointIT's mission is to harness the power of technology and help business executives get the most out of their technology investment, on premises or in the cloud. The company's ITAnyWhere Support, ITAnyWhere WorkSpace and ITAnyWhere ServiceDesk products and services, along with key backup, security, and advisory services, have helped hundreds of businesses stay competitive with the innovative use of technology.
About Avail Technology Group:
In 2008, Avail Technology Group was founded for the purpose of providing information technology solutions that enable businesses to succeed. They are a provider of information technology and cloud services for small and medium sized businesses across New England.