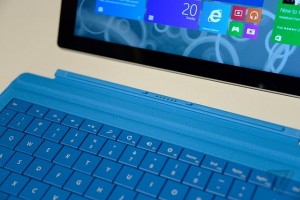 Microsoft has been struggling to compete in an increasingly tablet-driven industry while also remaining faithful to its many business users. With Windows 8, the company tried, and so far has failed, to make both sides happy. The company also tried, and failed, to launch a tablet that would compete with popular competitors like the iPad.
With the Surface Pro 3, Microsoft may have finally made its tablet-laptop hybrid work. The selling point for the Surface–the fact that it can work as both an app-driven tablet and a full-blown Windows laptop–is becoming more attractive as users grow to accept Windows 8 as an inevitability.
Ease of Use
The Surface is more than a tablet with an attached keyboard. It has the ability to rest upright similarly to a laptop. With the Surface 3, a kickstand brings additional support to the tablet to help keep it upright in a variety of positions.
A business's IT support staff will enjoy having the familiarity of the Windows O/S in a tablet format. Additionally, the Surface 3 brings with it a full-size USB 3.0 port and a 12-inch full HD display. On the rare occasions tech support will be required to work on this cloud-based device, they'll have an easier time than they have with iOS devices in a Windows-driven environment.
Affordability
The big question for businesses centers on affordability. While other tablets may be less expensive than the Surface Pro 3's $799 price point, the Surface 3 has much more to offer than its competitors. For $799, business users have access to a 4th-generation, Intel Core processor, up to 8 GB of RAM, and up to 9 hours of battery life.
The Surface Pro 3 has many benefits for those businesses trying to make the choice between tablets and laptops. The impressive RAM and full-size USB port make the Surface 3 great for the work environment, especially for the many professionals who have found they're increasingly required to be more mobile, while still accessing the documents and software they use in the office each day.
https://www.computersupport.com/wp-content/uploads/2019/08/StratusPointIT-ComputerSupport-logo.png
0
0
Kirill Bensonoff
https://www.computersupport.com/wp-content/uploads/2019/08/StratusPointIT-ComputerSupport-logo.png
Kirill Bensonoff
2014-05-28 06:00:16
2018-01-16 12:06:02
How Does the Surface 3 Stack Up Against Its Predecessors?