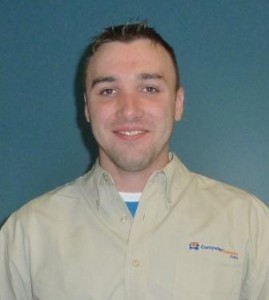 As a kid, Liam Shea always liked playing with computers—"seeing what I could do, seeing how I could make it run faster," he said.
Even while he was in college studying for a career in criminal justice, he found himself pulled toward technology, working for an IT outsourcing company to put himself through school. Four years ago, he came to ComputerSupport.com, where he's now manager of customer support, and he has no plans to do anything else.
Liam's work involves overseeing the company's help desk and making sure that customer IT issues are always resolved within 30 minutes. That requires not just strong technical skills but also the ability to work with busy businesspeople so that technological problems don't interfere with their work.
Beyond that, Liam meets regularly with ComputerSupport's clients to strategize about ways they can improve their information systems. Using tickets that have been put in as guidelines, he's able to make recommendations about areas for improvement within a given company—"how we can be proactive and kind of cut down the ticket volume," he said.
Liam's also responsible for making sure ComputerSupport employees who are stationed at clients' offices stay in the loop with their coworkers at the main office. The company has daily meetings that the remote workers call in to, which help everyone learn from the work that others are doing. But, since the company tries to be a friendly place to work, Liam admitted the meetings usually involve some talk about the Celtics or the new blockbuster movie that everyone saw over the weekend.
Liam said one of the things that drew him to the company was the chance to get in on the ground floor of a fast-growing enterprise—"kind of experience the benefits, as well as the pains of a small start-up company," he said.
When Liam's not in the office, you can find him spending time with his nearly four-year-old son, talking superheroes, playing with action figures or heading off to the zoo.
"We're never sitting still," he said. "When I'm not here, that's where my time is usually being allocated."
https://www.computersupport.com/wp-content/uploads/2019/08/StratusPointIT-ComputerSupport-logo.png
0
0
Kirill Bensonoff
https://www.computersupport.com/wp-content/uploads/2019/08/StratusPointIT-ComputerSupport-logo.png
Kirill Bensonoff
2012-05-15 11:43:45
2018-01-05 09:25:51
Meet Liam Shea, Manager of Customer Support