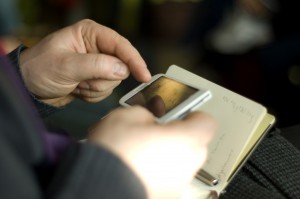 When you're called into a meeting, do you grab a pen and notepad? Or are you one of the growing number of professionals who now uses a tablet for note-taking during meetings?
Thanks to cloud hosting, professionals can enjoy the same pen-and-paper functionality with an electronic device. Best of all, notes can be exported to a document after the meeting, either to be archived for future reference or emailed to others. In addition to a great tablet and a stylus, here are a few note-taking apps that can make your next meeting more productive.
Evernote tops numerous "best workplace apps" list for a reason. In addition to its many benefits, Evernote allows its users to save notes in "notebooks," which can later be searched. When new notes are created, they can be moved into existing notebooks or into their own separate notebooks.
Notability is a hand-writer's dream, giving note-takers the choice between various pen widths. Users can also take notes through the device's keyboard or through speaking into the microphone. In addition to taking notes during meetings, Notability is a great tool for marking up documents.
Noteshelf
If user experience is a priority, Noteshelf will be a fast favorite. The app promises an experience very similar to pen on paper, giving users a wide variety of design templates from which to choose. Users choose a paper type and start writing as they would on a piece of notepaper.
OneNote is worth mentioning primarily due to its compatibility with the most popular office suite. With OneNote, users can take notes on a mobile device and sync them to SkyDrive. OneNote also allows users to create notebooks for easy organization.
Many of these solutions offer demos to allow professionals to view how the app functions. Since each worker has personal preferences, each app will appeal differently to different people.
https://www.computersupport.com/wp-content/uploads/2019/08/StratusPointIT-ComputerSupport-logo.png
0
0
Kirill Bensonoff
https://www.computersupport.com/wp-content/uploads/2019/08/StratusPointIT-ComputerSupport-logo.png
Kirill Bensonoff
2014-03-31 14:17:33
2018-01-25 11:32:56
Best Cloud Apps for Taking Notes