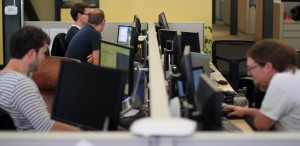 Businesses that are choosing to work with cloud hosting providers are faced with a challenge. The move to the cloud often brings with it the use of packaged software solutions that address a variety of daily work processes. To avoid paying for expensive custom development, organizations too often must revise entire processes, changing the way customer and employee transactions are handled.
Costly Retraining
While change is a necessary evil in any work environment, major changes can wreak havoc on both productivity and morale. During the process of testing and implementing a new application, work could slow down significantly, and the impact will likely be seen by customers. Too many errors could result in customers choosing to go with a competitor, costing your business thousands of dollars in future sales.
At the very least, your organization will be tasked with training existing employees. Even if the vendor offers to perform the initial training session, internal staff will likely be tasked with helping employees with daily challenges they face with the application, as well as training any new users that join the staff.
Finding a Solution
To reduce the business cost of dramatically changing business processes, organizations should set out to find a solution that matches those processes as closely as possible. For best results, a business should carefully document tasks that a solution should include and outline that in the bid process.
The search for a software solution should involve researching multiple options. If a company has access to technology-minded personnel or consultants, they can be sourced to provide a list of candidates. If a business is already using cloud services for infrastructure or data storage, that service may be able to recommend a product that meets a business's needs.
Once a solution has been chosen, there will inevitably be at least a few business processes that will need to be altered to fit the new environment. An organization should weigh the cost of training and productivity lapses against the cost of paying for custom design to add those features and make a choice based on which is less expensive.
https://www.computersupport.com/wp-content/uploads/2014/06/processes-300x1461.jpg
146
300
Kirill Bensonoff
https://www.computersupport.com/wp-content/uploads/2019/08/StratusPointIT-ComputerSupport-logo.png
Kirill Bensonoff
2014-06-09 06:00:09
2018-01-16 12:03:27
Move to the Cloud Without Changing Crucial Business Processes