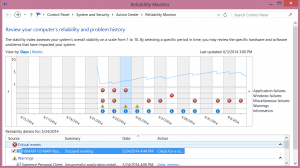 In the early days of mainstream desktop computing, businesses were required to have full-time IT support on hand to install and troubleshoot software and help workers navigate the scary new world of Windows. As technology has evolved, however, businesses are increasingly recognizing that workers now have the knowledge to troubleshoot their own devices.
But not everyone is equipped to handle some of the more complicated computer issues. When your employees are stuck, instead of sending them to some retail store to pay a fortune for help, link them to one of these great apps for troubleshooting Windows.
Microsoft Fix It Solution Center
Imagine being able to fix even the most complicated computer problem with one click. Microsoft offers this functionality in its Fix It Solution Center. While a user won't be able to scan his entire PC and fix all problems, this tool is great for fixing known issues. A user simply searches the solution center for the error he's having, reads the description, and if it matches, clicks "Fix It." Sometimes a reboot is required and the Fix It button doesn't always repair an issue, but it's a handy tool to save to Bookmarks.
WinAudit 2.29
If someone is having problems with a PC, chances are he needs to take a good, hard look at its contents. If he is required to escalate his troubles to the next level, an overview of a system's contents and configuration may come in handy, as well. This free tool conducts an inventory of a PC and catalogs all installed software, licenses, hardware, network settings, and more.
Microsoft's best-kept secret is its reliability monitor, which runs in the background, collecting information about a Windows 7, 8, or 8.1 computer. If a user is having frequent crashes or slow-downs, he can simply look at the reliability monitor to see what happens. Clicking on an X or warning symbol brings up details about the problem, including, in many cases, a link to an easy fix for it.
https://www.computersupport.com/wp-content/uploads/2014/06/reliability-300x1681.png
168
300
Kirill Bensonoff
https://www.computersupport.com/wp-content/uploads/2019/08/StratusPointIT-ComputerSupport-logo.png
Kirill Bensonoff
2014-06-04 06:00:51
2021-12-17 08:23:11
3 Tools for Troubleshooting Your Own Computer