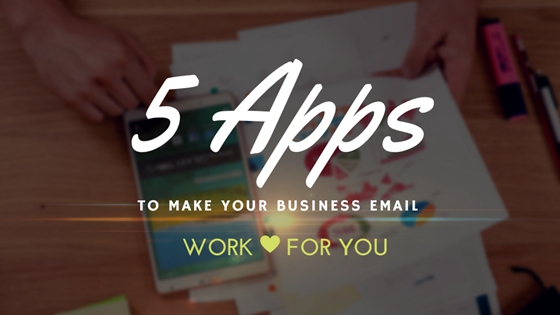 Email may be useful, but unfortunately, it is causing people to spend long and painful hours, some of which are spent on unimportant messages. According to Nathan Zeldes, we spend around 20 hours in a week reading and processing information in emails. This is enough of a nuisance for individuals trying to get through their day. But for SMBs that are highly time conscious and reliant on email marketing efforts to gauge effective campaigns and build their customer portfolio, this is a very bad news.
In the corporate world, every hour counts and spending a great proportion of your week on emails means a high likelihood of missed deadlines, ineffective marketing campaigns, and delayed responses to custom queries.
Fortunately enough, there are a number of applications that SMBs can administer to significantly free up their weekly hours to focus on more critical and strategic tasks. Here we identify 5 add-ons that SMBs need to consider for raising their productivity.
Boomerang
One of the most difficult things about using email is being able to manage the overwhelming amount of clutter. Miss a few days, and your inbox reaches more than 500 e-mails, all due for a reply in the most critical hours of your work schedule. If you face such problems, then the Boomerang G-mail add-on is one of the best applications for you. Boomerang allows you to significant reduce your clutter of e-mail by classifying email according to their priorities.
This is because not every single email you receive is of a high priority, which means that replying to such emails will not land you in any serious trouble. With Boomerang, you can mark email that you consider to be of a high priority for replying later. More importantly, if there is a client or a customer whom you have emailed but has not replied yet, you can choose to be informed about it so that you can easily follow-up. In this way, you avoid neglecting important customer queries and avoid losing potential customers in the process.
SaneBox
Another efficient tool for managing your emails is SaneBox. This works seamlessly with most email services including Gmail, Yahoo Mail, and Microsoft Exchange. One of the most important features it offers is that it removes all unimportant or irrelevant emails to a SaneLater folder, helping you only focus on the more important emails. Among its other benefits is the SaneNoReplies feature; this is useful for checking which of your emails led to a conversation or not. Using this, you can keep track of which emails did not lead to replies and allow you to build your client portfolio through targeted emails.
Asana
The Asana application is also a valuable task management feature. As a Google Chrome extension, it can easily be integrated to work with Gmail or any other Web-interfaced email program and is exceptionally useful for keeping all of your emails organized. It has the unique feature of creating or assigning a task based upon the email you receive. You can click the icon and name of the task and it easily gets added to your to-do list. This is extremely important for integrating email processing and to-do list features, helping you save considerable time and raise productivity levels.
KnowMail
If you are looking for an application to manage your Microsoft Outlook mess, then KnowMail is the one you should count on. Its AI Agent helps in prioritizing emails according to the level of attention required from you so that emails, which are of a low priority, can be dealt with later on. KnowMail does this by providing you with an estimate of the time required to process the email using an advanced set of algorithms. The company is also developing an add-on for Gmail.
SortD
SortD is perhaps the best when it comes to fusing email management with task management. Instead of assigning emails different labels, you can use the email messages as tasks. So say you have received a very important email about the need to finish an IT project within a particular deadline. You can use the email and move it into a separate column highlighting the task through renaming the title of the email. For example, the email subject title of 'IT project deadline' can be turned into a task with the title: 'Approve project budget from the CIO'. This can help SMBs to save substantial amount of hours trying to process through a sea of email messages and separating high priority tasks from low priority ones.
End note
The aforementioned applications are integral for speeding up business activities and ensuring that the organization is agile enough to respond to uncertain events by significantly raising employee productivity. As a result of these applications, the many hours saved can be efficiently utilized for pursuing more critical tasks and can become a source of a sustainable competitive advantage over rivals.
https://www.computersupport.com/wp-content/uploads/2016/03/BizEmail.jpg
315
560
Kirill Bensonoff
https://www.computersupport.com/wp-content/uploads/2019/08/StratusPointIT-ComputerSupport-logo.png
Kirill Bensonoff
2016-03-07 16:44:30
2020-05-01 06:30:23
5 Applications to Make Your Business Email Work for You