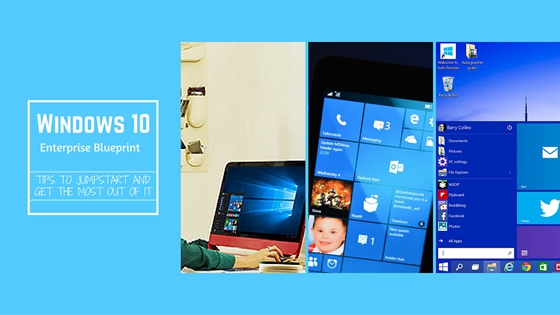 On the 1st of August, 2015, businesses were finally able to get their hands on the release of Windows 10 Enterprise – the latest operating system from Microsoft tailored to enterprises. What makes the Windows 10 Enterprise operating system different from other versions such as Home and Pro are the multiple layers of security features – a necessity for businesses to combat the scale of cyber security risks and threats.
The Windows 10 Enterprise comes with all of Windows 10 Pro features, in addition to more specific IT-based features. These include the ability to join Microsoft Azure's cloud Active Directory, which is a Mobile Device Management system containing automatic upgrade feature that will help businesses streamline and update their processes on a continual basis.
However, businesses can get the most of their Windows Enterprise experience by familiarizing themselves with the new operating system's features. Let's take a look:
Advanced security software tools
To counter the considerable security risks enterprises are facing on a day-to-day basis, Microsoft has equipped Windows 10 Enterprise with a variety of security features. These include Microsoft Passport, Enterprise Data Protection, and a number of other security features.
Microsoft Passport allows businesses to benefit from greater user authentication control using a sophisticated two-factor authentication system as opposed to the use of passwords alone. Users are required to provide their user account and password details after which they are guided to activate Microsoft Passport. This allows them to access corporate data and accounts by the use of a simple gesture, ensuring security lies within the absolute control of the user.
The Enterprise Data Protection, on the other hand, provides additional protection against corporate data leakage and enables effective separation between corporate and personal data. Other security features include Trusted Boot and Credential Guard.
Through these security features, businesses can minimize intra security risks.
Continuum
Microsoft's addition of its Continuum feature will provide numerous advantages for businesses that adopt a BYOD (Bring Your Own Device) policy. This is because Continuum allows employees to seamlessly view content and apps from their desktop PCs to their tablets or smartphones.
This will be highly advantageous for businesses to increase employee productivity, resulting in higher business growth. It provides two layout options which users can choose for their convenience. For instance, in its tablet layout, it will offer users touch-screen features so that using apps or viewing the screen becomes an extremely comfortable experience.
Microsoft Edge
This is the default web browser for Windows 10, providing users with an enriched browsing experience. It contains a number of useful tools, such as Reading View, Web Note, and Cortana. In Web Note, users are provided with many tools through which they can easily highlight and annotate things on webpages. In Reading View, users are provided with a layout free from distraction for easy reading and printing options. You can even save articles and web content for reading later on. Cortana allows users to highlight words and instantly offer access to related items and things, such as reviews and restaurant reservations.
Azure Active Directory
For businesses, cloud has become a necessary component for effectively managing their data and workflows. Microsoft has thus enabled users to be able to seamlessly use their user accounts from Windows 10 Enterprise to Office 365 using the Azure Active Directory. Microsoft's Azure Active Directory enables shared log in and user authentication controls that allow BYOD users to effectively access data from the comfort of their mobile devices.
Integrate multiple devices
Another beneficial feature of Windows 10 Enterprise is that a number of external devices can be integrated for maximizing enterprise usage. For example, Windows 10 Enterprise can be integrated with the Surface Hub, enabling collaborative work to be carried out in an effective manner. With it, users can conduct business meetings and have a range of sharing tools by which they can bolster cross-functional capabilities.
More importantly, the scale at which BYOD policies are being adopted means that devices such as Surface 3, Surface Pro 3, and Lumia devices can be effortlessly linked to it, thus enhancing the end user experience. For example, by linking Lumia devices to Windows 10 Enterprise operating systems, users who are working remotely can easily gain access to Office 365 documents, make changes, and utilize functionality of the entire Microsoft bundle, including Outlook, Calendar, One Drive, and a lot more.
https://www.computersupport.com/wp-content/uploads/2016/03/Win10-Enterprise.jpg
315
560
Kirill Bensonoff
https://www.computersupport.com/wp-content/uploads/2019/08/StratusPointIT-ComputerSupport-logo.png
Kirill Bensonoff
2016-03-11 13:56:52
2017-01-06 09:53:20
Windows 10 Enterprise Blueprint – Try these tips to jumpstart and get the most out of it