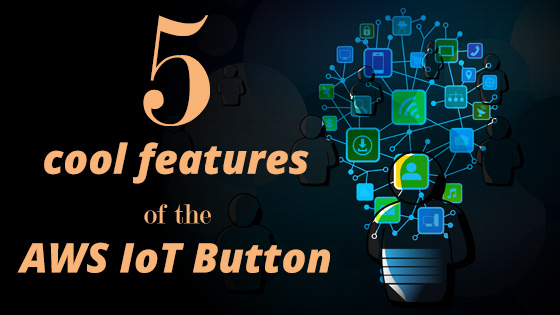 Amazon has announced the AWS button and it can be bought by consumers in limited quantities right now. There's a lot of excitement about it in the IoT sector, but a lot of confusion as well for people not well-versed in how the IoT sector operates. The AWS IoT Button is literally just that – a button – so it is easy to see why people might not understand what is so cool about it. The AWS IoT Button is simply an Amazon Dash button which people can program themselves.
The Amazon Dash buttons are devices which accomplish a simple task through clicks. So if you had the Tide detergent button, you could simply press the button when you were running out of detergent and more will be ordered automatically. People have been hacking the Amazon Dash buttons since they were released and have been programming them to do cool things. The AWS IoT Button isn't simply the device explicitly made to be hacked and programmed; it also has a set of AWS features backing it to allow people to innovate easily and create more use cases. The AWS IoT Button can do many cool things and comes with plenty of great features.
1. It makes IoT easy
The Internet of Things is something which people have been hearing for a long time; the AWS Button goes a step ahead and allows people to see what the feature will be like. It is very easy to set up and there are many helpful guides and communities that will help new users get used to working with the button. With the IoT button, people don't have to just read about what the internet of things will be like, they can actually play a role in creating the future of the IoT.
2. Its fully programmable
The old Amazon Dash buttons had to be hacked to be customized but that isn't true about the AWS Buttons. These devices are completely programmable – you can do what you want with them. Most people will simply use AWS services with the device since they are so easy to set up but Amazon isn't limiting the users to any single thing; you can use whatever system you want and connect the device to anything you want to connect it to. We will be seeing many cool implementations of the buttons soon thanks to the open implementation which Amazon has chosen for them.
3 Its backed by AWS
This is the main reason that the tech world is so excited about these devices. There are a lot of IoT buttons available in the market and there are even devices much more advanced available to buy. However none of those devices have the AWS integration and support which these buttons have. AWS is a fast, easy to use, and very powerful system which will allow programmers to do great things with the AWS Buttons. People can easily test the button using different use cases from AWS Lambda Blueprints.
4. It costs very low
The extremely low price of the AWS IoT Button lowers the barrier to entry for people to experiment. People don't want to spend hundreds of dollars just to see whether something is for them or not; people like to get a taste of things without making an investment. The IoT Button will allow people to see if they want to invest more in IoT for only a few dollars. The low cost also means that people will freely use the buttons for whatever they want. They can use it as a remote, as a garage door opener, or anything else without worrying about wasting their money on it.
5. It is simple yet intuitive
The most surprising thing about these buttons by Amazon is how much can be done with them. All the device consists of is a button for people to press yet Amazon has put in a lot of functionality within it. You can program different actions to happen on a single click, on a double click, or on a long press. This means that users can easily configure the button to do many different things.  It also uses a color changing LED to notify users about its status.
https://www.computersupport.com/wp-content/uploads/2016/07/5-cool-features-of-the-AWS-IoT-Button.jpg
315
560
Raluca Neagu
https://www.computersupport.com/wp-content/uploads/2019/08/StratusPointIT-ComputerSupport-logo.png
Raluca Neagu
2016-07-25 08:24:05
2016-07-25 08:24:05
5 cool features of the AWS IoT Button