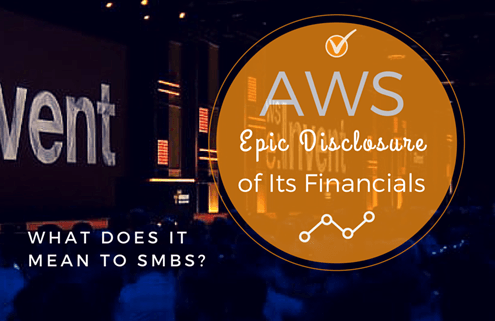 Amazon's first disclosure of its financial results for the first quarter of 2015 of its cloud services division – Amazon's Web-Services (AWS) – revealed an astonishing achievement that has left many investors astounded. The online giant's booming operating profit margin of approximately 17% shows the overwhelming success that its cloud computing services have to offer to corporations of all sizes.
This monumental growth of AWS is driven primarily by technologically-inclined small-to-medium businesses (SMB) flocking towards cloud computing services.
"A $5 billion business [that is] still growing fast — in fact, it's accelerating. We manage by two seemingly contradictory traits: impatience to deliver faster, and a willingness to think long term "

— Jeff Bezos, CEO of Amazon.com
AWS' success coincides with the exponential growth of the cloud computing market as evidenced by IDC's research statistics which estimates an astounding $52 billion cloud infrastructure spending to be reached in year 2019. Take a look at this infographics of the rise of cloud computing.
Companies are beginning to realize the large-scale benefits of adopting cloud computing technology that can put them on par with larger corporations. Enterprises, whether SMBs or MNEs, are dedicating a significant portion of their IT budgets on cloud services spending, IDC's findings reveal.
The question is, what can SMB's take from this growth and what potential does it offer to them?
How cloud computing can benefit SMBs?
The contention that first needs to be put forward is that AWS owes its $1.57 billion sales revenue growth for the first quarter of 2015 to young and emerging technology corporations which, upon adopting cloud services, have grown immensely. This only seeks to show the prodigious advantages that cloud services have to offer for SMBs.
Here are some of the ways cloud computing can help drive SMB growth:
Substantial cost reductions
Cloud adoption can bring cost savings by significant proportions for SMBs. Building data centers and local servers can be extremely expensive, which can increase further if a corporation wishes to expand to other locations and countries. Costs related to power and energy are also an issue, as price fluctuations in the energy market can adversely impact costs and profitability.
However, with cloud computing, it eliminates the need to build local servers and all data can easily be stored and accessed in large quantities online.
Greater competitive advantage
Cloud adoption eliminates scale advantages which often distinguish large, multinational corporations from SMBs due to their considerable resources and physical assets. However, that reality is in the past as larger corporations have become just as vulnerable to closures as small companies. Case in point: US Steel and Kodak, giants in their respective fields, faced inescapable problems that led to their downfall.
In the era of cloud computing, it leads to a level playing field which allows SMBs to directly compete with MNBs. This is because large-scale data storage and access has become the bedrock of a fast and efficient enterprise. Companies which have not restructured their operations according to it will inevitably be left behind in the competition.
A Harvard Business Review global survey of more than a thousand business leaders on cloud adoption benefits has important findings. The survey finds that more than 60% of respondents favored cloud as an efficient way of allowing faster communication between multiple stakeholders. One CIO says:
"It solves a lot of the technical problems and lets you focus on the higher-level issues. We'll be able to look downstream to retail or even post-sale repair data and all the way back upstream to second- and third-tier suppliers in real time."
Higher flexibility and accessibility
Cloud computing allows greater accessibility features that SMEs rarely have otherwise. With shared information infrastructures, firms can be more flexible with regard to consuming data and obtaining it from anywhere, provided they have access to the internet. Also its Pay-As-You-Go model means that SMEs only use data when required.
SMBs can benefit immensely from having greater flexibility and accessibility to data that can allow them to process information in real-time. Through sharing of information infrastructures, it can simplify business processes and make operations far more seamless and smooth.
In a survey conducted by Harvard Business Review, more than 75% of respondents intend to use private cloud to create a more scalable and flexible IT infrastructure.
Why? Review this extensive list of advantages of cloud computing for SMBs.
What challenges does cloud adoption pose for SMBs?
The benefits of cloud computing are not without a catch. There are a few considerations that SMBs need to consider before jumping on the bandwagon for a hasty cloud adoption.
SMBs need to first bear in mind the escalating threat of cloud security hacks which can compromise their data security and integrity. They therefore need to opt for a proactive approach and invest in security systems that can promise them a secure cloud network.
Secondly, SMBs need to be aware of the different cloud service providers. AWS' successful financial performance is bound to spawn a host of other service providers in an effort to obtain the slice of the market share. SMBS need to carefully consider the implications of their service provider exiting the market and the monopolistic market conditions that could have an adverse impact on their business performance.
https://www.computersupport.com/wp-content/uploads/2015/06/AWSFinancialDisclosure.png
400
495
Kirill Bensonoff
https://www.computersupport.com/wp-content/uploads/2019/08/StratusPointIT-ComputerSupport-logo.png
Kirill Bensonoff
2015-06-03 17:24:35
2017-01-06 12:25:09
AWS' Epic Disclosure of Its Financials - What Does It Mean to SMBs?