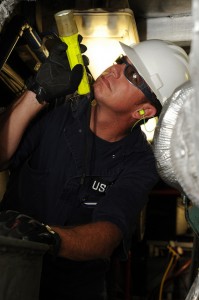 Mobile devices are gradually replacing clipboards and pens as businesses realize the benefits of paperless solutions. For jobs that require workers to track information on the go, tablets are the perfect replacement for outdated systems.
Keeping that in mind, it's no surprise that mobile adoption in manufacturing is growing at a rapid pace. In fact, a recent survey conducted by Canvas found that mobile technology is making its way into manufacturing in a variety of ways.
Survey Results
The results, which were reported in Manufacturing Business Technology, showed that inspections are the top use of mobile apps. As workers head out into the field to investigate facilities, having an app that allows for easy completion and submission of forms can save time and improve productivity.
While nearly half (48 percent) of manufacturing mobile app use is related to inspections, 36 percent of respondents reported using them for work orders. Another 23 percent admit to using them for surveys and 21 percent use them to create invoices.
Cloud Use
Increasing use of mobile devices isn't the only way cloud computing is changing manufacturing. More than half of organizations report to relying on the cloud for file storage, many preferring Dropbox over other file storage solutions. Of those surveyed, 23 percent admitted to using mobile apps for note-taking, with Evernote being the most popular.
One area that hasn't yet migrated to the cloud for manufacturing organizations is credit card acceptance. Only six percent of manufacturing-related organizations reported using mobile credit card processing. Still, accounting is a popular use of cloud technology in manufacturing. 47 percent of the businesses surveyed use a cloud application for accounting, with Quickbooks being the most prevalent.
The respondents for the survey were chosen from industries that have been known to be paper-based, with manufacturing being one of those industries. The shift shows how cloud adoption is permeating every area of business today, from traditional offices to production plants to retail and distribution.
https://www.computersupport.com/wp-content/uploads/2019/08/StratusPointIT-ComputerSupport-logo.png
0
0
Kirill Bensonoff
https://www.computersupport.com/wp-content/uploads/2019/08/StratusPointIT-ComputerSupport-logo.png
Kirill Bensonoff
2014-05-30 06:00:29
2019-11-27 04:28:47
Cloud Brings Mobile Apps to Manufacturing Industry