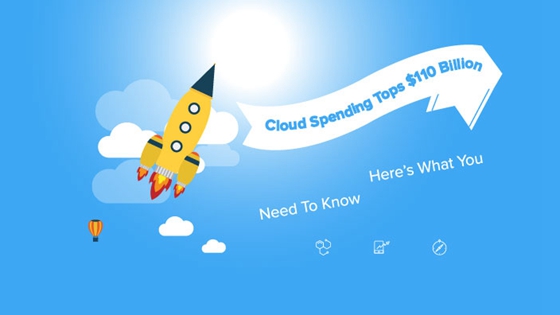 The exponential growth of cloud computing reaches a new milestone as cloud spending exceeds the $100 billion mark. According to Synergy, a research group based in Nevada, cloud spending reached $110 billion in 2015 in what is being referred to as the 'Year of the Cloud'. This number in cloud spending substantially outweighs the predictions made by IDC in 2014 of a cloud spending of $52 billion by 2019.
Out of the cloud models, public cloud is by far the leader in cloud spending, with growth of more than 50 percent. However, as firms enter 2016, they are expected to face a new set of challenges, opportunities, and risks. In lieu of this, it is important that companies stay abreast of the trends and predictions to be able to adjust their management practices and adopt new cloud strategies to leverage their competitive advantages better.
Here, we will explore 5 top cloud computing trends that company executives and manager should pay attention to.
Cloudops will continue to grow
The importance of Cloudops will continue to rise owing to the breadth of security it offers to organizations suffering from cloud security risks and threats. Cloudops allows organizations to benefit from enhanced digital surveillance which covers the entire cloud network architecture. Furthermore, Cloudops has the capability to anticipate cloud governance risks and inform the organization during the event of a security breach.
Its use of predictive analytics further allows organizations to accurately identify the source of performance issues, allowing them sufficient time to plan for contingency measures. Due to these features, it is not surprising that Cloudops is expected to become the preferred cloud security platform for numerous companies.
Cloud containers to grow in popularity
The development of cloud containers has provided organizations with considerable ease in being able to create different cloud apps, in addition to data storage capabilities. Prior to containerization technology, companies relied on numerous virtual machines (VMs), each of which accounts for significant overhead costs.
Containerization products such as CoreOS and Docker have been instrumental in allowing organizations to adopt a simplistic approach to their data storage and app creation requirements at a fraction of the cost. This allows organizations to exercise efficient cost control and benefit from higher profitability.
However, since the containerization technology is still in its infancy, it consists of some missing pieces and will take some time for new innovative companies to provide a comprehensive containerization solution for cloud networks. More importantly, it is also a platform where hackers are expected to exploit for carrying out cyber attacks. Therefore, firms should tread with caution and look for advanced security solutions from an experienced service provider.
Rise in demand for Cloud training and certification
The colossal rate at which spending on cloud spending is being reported means that there will be a great requirement of organizations in cloud training and certification initiatives and programs. Cloud is exploding into separate cloud sub-domains that will become fully-fledged disciplines and areas of specialization. Within a short span of time, organizations will be needing employees who are not only equipped to manage, access, and setup cloud networks, but also have expertise in cloud security, cloud app development, cloud analytics, and much more.
Developers to focus on machine learning
The growth of analytics has extended to become feature as a separate cloud model on its own. Analytics-as-a-service is being offered along with machine learning features. Machine learning is considered to be a crucial component in allowing developers to create applications that detect various patterns within webs of data. Among these include face recognition, fraud detection, infrastructure optimization, and much more.
The implications of integrating machine learning with cloud models will have tremendous opportunities for specialized industries. While machine learning has been offered in the past, its availability as a separate domain which developers can exploit to their convenience makes it a key trend for this year in the cloud industry.
Firms that will be looking to take the lead in capitalizing on the cloud race will be eager to invest in servers that can support machine learning algorithms for added advantages.
Big Data to have Big Risks
While the potential for Big Data to provide insurmountable data collection, sharing, and decision making advantages cannot be denied, there are risks of equal proportions that firms should not choose to ignore. Firms that are seeking to leverage cloud data should be wary of the many challenges and issues within the realm of Big Data.
The hype surrounding Big Data is to do with the more information can be analyzed, the greater the potential for businesses to attain competitive advantages. This is simply untrue! The more data companies have, the greater will be the difficulties in pinpointing relevant data for effective decision making. Secondly, there also tends to be a lack of big data skills in being able to break down the complex nature of large data sets.
There are multiple formats, metadata, structures, and content that data scientists need to be familiar with. Unfortunately, many businesses do not consider these issues and are investing in big data technologies without knowing how to use them in the first place.
More importantly, big data also has big security risks. The fragmented approach of using multiple data centers means that encryption cannot be applied across all data centers. This raises the potential of hacking and breaking into sensitive data centers.
In conclusion, there are many opportunities, risks, and challenges that managers need to be familiar with to make sure that their investments in cloud tool and processes can be made in the right manner. This will allow them to sustain their competitive edge in their respective industries and secure their growth targets with greater confidence.
https://www.computersupport.com/wp-content/uploads/2016/03/CloudSpent.jpg
315
560
Kirill Bensonoff
https://www.computersupport.com/wp-content/uploads/2019/08/StratusPointIT-ComputerSupport-logo.png
Kirill Bensonoff
2016-03-22 15:03:05
2020-05-01 06:26:51
Cloud Spending Tops $110 Billion – Here's What You Need to Know