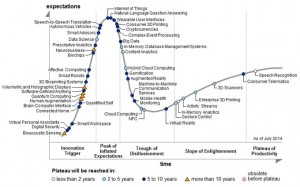 Major changes are taking place in the corporate world, with most industries having already adopted a digital business model that is dramatically different from a couple of decades ago. As a new report points out, the move toward digital business requires industries to choose and implement the best technologies to move them in the right direction.
Emerging Technologies
The report, Hype Cycle for Emerging Technologies, 2014, gives strategists a look at the future direction of more than 2,000 different technologies shaping business today. Gartner predicts that in the coming years, those technologies now seem as "emerging" will become a core part of how businesses of all sizes operate.
Within the hype cycle, Gartner predicts several technologies will plateau within the next two to five years, including data science, in-memory database management systems, content analytics, and 3-D printing and scanning. These technologies are being heavily hyped today, with many businesses striving to learn more about them, but many aren't using them as a large part of operations today.
Looking Toward the Future
Perhaps most notable in the report is the list of the many technologies that will plateau in the future. Within five to ten years, Gartner predicts that the Internet of Things, wearable technology, and Big Data will all be among the many technologies being used in businesses.
Today's hype cycle mostly focuses on digital marketing and digital business, with the public seeing the emergence of mobile, cloud, social, and information. With digital business, we'll see the convergence of people, business, and things, with the Internet of Things playing a large role in the consumer market.
To ensure long-term success, businesses should pay attention to the cycle of emerging technologies as they become mainstream. The Gartner report can be a great way to see those technologies and prepare to work them into your business plan to remain competitive.
https://www.computersupport.com/wp-content/uploads/2014/08/gartnerhc-300x1871.jpg
187
300
Kirill Bensonoff
https://www.computersupport.com/wp-content/uploads/2019/08/StratusPointIT-ComputerSupport-logo.png
Kirill Bensonoff
2014-08-15 06:00:55
2020-02-28 05:18:56
New Report Tracks Journey to Digital Business