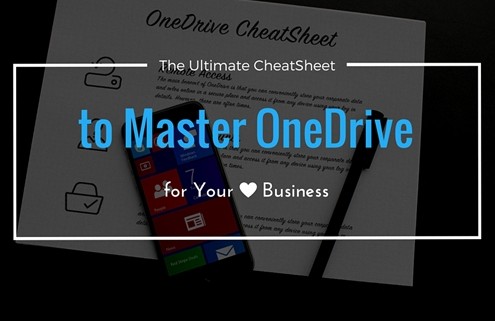 When businesses are offered a variety of cloud data storage solution providers, it can be pretty difficult for IT leaders to choose one that best fits your organizational needs. There are a number of cloud solution providers to choose from, such as Box.com, Dropbox, Google Drive, Hightail, and others, each with their advantages and disadvantages. However, if you want one that seamlessly integrates with your Microsoft ecosystem, you should not look any further than OneDrive.
Microsoft is coming under a lot of spotlight from tech enthusiasts and businesses, owing to its recent announcement to launch its Office 2016 application suite. Also, its Office 365 has also been sweeping the corporate industry after being ranked as the leading provider of online productivity tools. Given these developments and the upcoming official release of the Windows 10 operating system, it would be somewhat pointless to use a cloud data storage solution that does not fit into the family of Microsoft. After all, businesses can benefit from better synergy, cost efficiency, and speed of access.
So if you are a business that is looking to leverage Microsoft's OneDrive cloud service, here are a few things you need to know.
Remotely access your files at home
The main benefit of OneDrive is that you can conveniently store your corporate data and files online in a secure place and access it from any device using your log in details. However, there are often times, when you would count on OneDrive to save your neck in tricky situations. Imagine forgetting to upload the presentation you had created at home to your OneDrive space for a meeting that is due in 15 minutes.
With OneDrive, you can use its new Fetch feature that would allow you to access all of your files on the OneDrive website. Fetch is also there if you do not like to upload your files to your OneDrive account every single time. What makes this even more exciting is that you can also access your libraries and hard drives, provided that your computer and internet are turned on.
To use this feature on your OneDrive:
Right Click the OneDrive icon from the notification area and click on
Check the Let me use OneDrive to fetch any of my files on this PC.
Press OK to finish.
Afterwards, sign-in with your Microsoft Account on your web browser and under the PCs section, click on your computer name. You should then be able to view the locations including Favorites, Libraries, and PC. Through it, you can gain access to your C drive as well as your internal and externally connected drives.
Access OneDrive files from another account in Windows 10
Because you do not want to pay for more storage in your OneDrive or do not currently have an Officce 365 subscription, you may have multiple OneDrive accounts and cannot use more than one when accessing the browser.
However, you can still use another account while being logged in with your main account in the operating system. You can do this with the following steps:
Right Click the OneDrive icon from the notification area and click on
Click the Unlink OneDrive button on the Unlink OneDrive section.
Click Get Started after you see the OneDrive setup wizard.
Sign-in with a new Microsoft Account that you want to use for accessing OneDrive.
Change the location for storing your OneDrive files or choose to keep the current path and click
Click Next to choose which folders you want to sync. Make sure you don't forget to activate the fetch feature if you want to access your files remotely.
Click Done to finish.
Restoring files after emptying your Recycle Bin
So far, you have been using OneDrive to sync and access files and have the option to edit and delete them through your file explorer. But what happens when you have accidently emptied your Recycle Bin after deleting the file?
With OneDrive, you can still retrieve deleted files. Whenever you delete your OneDrive file, a copy is made in the Recycle Bin, both in Windows and OneDrive. So if you have accidently emptied your Windows Recycle Bin, you can still have access to the file on your OneDrive one. To restore files, follow these steps:
Sign in to your OneDrive account.
Click the OneDrive Recycle bin link from the menu on your left.
Select the file you want to retrieve and then click
End note
In summary, Microsoft's One Note is more than just a cloud data storage solution. It provides you easy access to your files for remote working and multiple account usage purposes. If you want your cloud storage solution to fit seamlessly with the Windows 10 operating system and the Office 365 cloud suite, then OneDrive is the ideal choice.
https://www.computersupport.com/wp-content/uploads/2015/11/11132015_OneDrive-CheatSheet.jpg
400
495
Kirill Bensonoff
https://www.computersupport.com/wp-content/uploads/2019/08/StratusPointIT-ComputerSupport-logo.png
Kirill Bensonoff
2015-11-13 15:10:10
2017-01-06 10:42:55
The Ultimate Cheat Sheet to Master OneDrive for Your Business