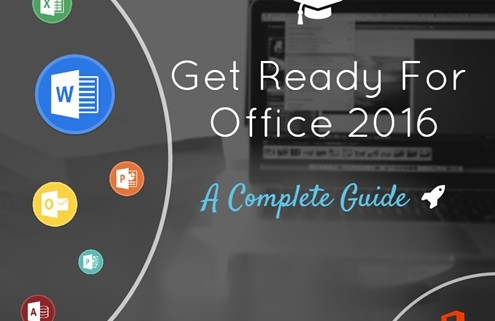 On Tuesday, 22nd September 2015, Microsoft officially announced the international roll out of its latest application suite product, Office 2016. The suite will be an addition to its Office 365 cloud-based application bundle service that aims to meet the contemporary needs of enterprises, at a low cost.
Microsoft has revealed that its Office 2016 application suite will offer a new desktop app version for its Windows apps including Word, Excel, PowerPoint, Access, and Outlook to foster better teamwork and facilitate collaboration needs and objectives.
"These latest innovations take another big step forward in transforming Office from a familiar set of individual productivity apps to a connected set of apps and services designed for modern working, collaboration and teamwork"

— Satya Nadella, CEO, Microsoft
With its launch of the Windows 10 operating system, Microsoft is set to provide an ecosystem of different business solutions for enterprises. Businesses that are Office 365 subscribers can choose to download the new Office 2016 applications as part of their subscription.
What is new in Office 2016?
Team collaboration and productivity are at the forefront with the latest release of the Office suite. Businesses operate in a highly competitive environment and barriers to communication and agility usually prove to hinder greater profitability and business growth. Requirements such as the need to be constantly mobile and work remotely for instance, cannot be met by using older application bundles and suites. Office 2016, as an addition to Office 365, can help fulfill enterprise requirements better.
"The way people work has changed dramatically, and that's why Microsoft is focused on reinventing productivity and business processes for the mobile-first, cloud-first world. These latest innovations take another big step forward in transforming Office from a familiar set of individual productivity apps to a connected set of apps and services designed for modern working, collaboration and teamwork"

–Satya Nadella, CEO, Microsoft
Tools for team collaboration
The additions to Office 2016 allow for higher productivity with features such as co-authoring on Word, PowerPoint, and OneNote, which allows users to type in real-time in Word while others work on the same document, essentially facilitating editing as content is developed. Skype in-app integration is also included across the client apps, allowing you to talk, video chat, and message instantly. Furthermore, the new Office 2016 includes the Office 365 Groups, which can be accessed easily from your mobile devices via the Outlook Groups App. This shared consistency helps to keep time lost in business communication to an absolute minimum.
In addition, the newly introduced Office 365 Planner and GigJam offer unprecedented benefits for teams' task organization, task management, and planning. This helps to remove communication barriers between different departments and across different teams, giving a significant boost to task completion.
 Additions to Windows apps
Microsoft had upgraded its apps to work smarter and faster, including better integration with cloud apps. The following are the changes introduced to each of its apps:
Word: Microsoft Word has been added with a number of features to provide better context for richer documents. As opposed to the limited number of options that would pop up when right clicking a highlighted word, the new Word 2016 displays options such as word translations, search for synonyms, and so on.
More importantly, Microsoft has introduced the Smart Lookup feature. This allows users to automatically look for relevant information in the Bing search engine by choosing the Smart Lookup option from the list of options presented when right clicking or typing Smart Lookup in the Tell Me box.  This feature allows users to benefit from a closely integrated Microsoft experience.
Excel: The Excel 2016 application has been integrated with the feature to publish large spreadsheet data for business intelligence purposes. This, along with new chart types, allows business users to make the most out of their data by scanning for important insights for better decision making.
Outlook: The Outlook application is adjusted for better email management, providing the smartest inbox coupled with lightning quick search tools, automatic deletion of unimportant and low priority e-mails via its Clutter tool. More importantly, the feature to include cloud-based attachments is another plus for businesses that can easily integrate their work from cloud services.
Security features
Enterprise security is the most important concern of CEOs and other executives owing to the intensity of data security threats and the number of data breaches faced by organizations in general. Microsoft has not neglected this concern with the recent release and has provided a range of capabilities for advanced data protection.
This consists of integrating built-in data loss prevention mechanism across Excel, Word, and PowerPoint to ensure that sensitive data does not leak easily. IT administrators are also provided with multifactor authentication tools that provide a far better data security than one-dimensional encryption tools. This will allow users to access their data anywhere in a secure manner without having to worry about data loss or theft.
Lastly, Microsoft is also expected to release Enterprise Data Protection for the Office Mobile apps for its latest Windows 10 operating system as well as for desktop use next year that will provide enterprises with exceptional data security protocols for safer business operations.
https://www.computersupport.com/wp-content/uploads/2015/09/Office2016Guide.jpg
400
495
Kirill Bensonoff
https://www.computersupport.com/wp-content/uploads/2019/08/StratusPointIT-ComputerSupport-logo.png
Kirill Bensonoff
2015-09-25 11:52:11
2017-01-06 10:52:08
Get ready for Office 2016 - A Complete Guide