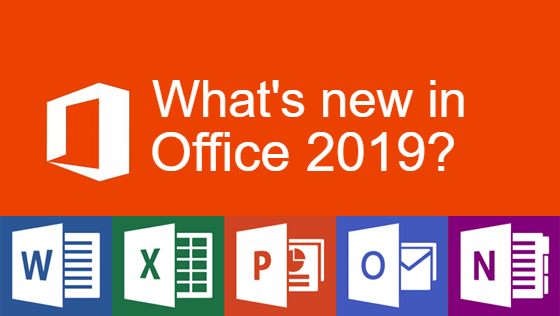 Note: This update was designed for those of you (organizations and consumers) that haven't opted for Microsoft's Office 365 service with monthly feature updates.
With Office 2019, Microsoft launches an enhanced roaming pencil case and ribbon customization across all Office applications. PowerPoint now includes scalable vector graphic (SVG) images and 3D model support, play video in-click sequence, Morph transitions, 4k video export, and Zoom through which you can create cinematic presentations. With Excel 2019, Microsoft has added new formulas, charts and a bunch of improvements to PowerPivot tool.
The Office development team launches new data analysis features and for Word and Outlook apps, they introduce several features like Text Spacing and Read Aloud to simplify content management. Also, Focus mode can be used on both Word and Outlook. This capability can prove helpful as it blocks out most distractions and increases user productivity.
Word 2019
Word 2019 helps users better manage content organization. Learning tools like Read Aloud and text-to-speech, make it easier to engage with your content. There are also many accessibility and usability improvements in the last version of Word.
o Learning tools (captions and audio descriptions)
o Speech feature (text-to-speech)
o Use LaTeX math syntax in your equations
o Ability to draw and write with a digital pen
o Enhanced inking functionality
o Improved screen reader interactions and navigation
o Black theme
Excel 2019
Excel 2019 adds several new data analysis features, including 2D maps, formulas, new charts and enhancements to PowerPivot. In the Office newest version, users can now publish from Excel to Power BI (business analytics service that delivers insights throughout your organization).
o PowerQuery improvements
o Funnel charts, 2D maps, and timelines
o New Excel functions and connectors
o PowerPivot tool enhancements
o Ability to publish Excel to PowerBI
PowerPoint 2019
With PowerPoint 2019, Microsoft reveals the most enhanced zoom capabilities, the ability to manage 3D images within the app and enhanced roaming pencil case features. Now, you can create cinematic presentations with new visual effects like the Morph transition and Zoom. Microsoft also improved inking features across the apps in Windows as for instance the roaming pencil case, pressure sensitivity, and tilt effects which allow you to create documents easier than ever before.
o Zoom capabilities for ordering of slides within presentations
o Morph transition feature
o Ability to insert and manage Icons, SVG, and 3D models
o Improved roaming pencil case
o Recording features
OneNote for Windows 10
OneNote for Windows 10 comes pre-installed on every version of Windows 10, and it's also included in Office 365 and Office 2019.
Microsoft said in a separate release that it combines OneNote 2016's best features with Windows 10 usability. These features include ink-to-text, improved syncing and it offers an enhanced user experience.
Outlook Updates
In regard to Outlook, Microsoft has updated contact cards, supports @mentions now and just recently has introduced focused inbox feature that moves less important emails out of the way, so what is truly important will have your full attention.
o Updated contact cards
o @mentions
o Focused inbox
o Travel and delivery summary cards
In the coming weeks, Microsoft will release Exchange Server 2019, Skype for Business Server 2019, SharePoint Server 2019, and Project Server 2019. Stay tuned for further information.
https://www.computersupport.com/wp-content/uploads/2018/11/Whats-new-in-Office-2019.png
316
560
Mihai
https://www.computersupport.com/wp-content/uploads/2019/08/StratusPointIT-ComputerSupport-logo.png
Mihai
2018-11-07 01:26:57
2018-11-07 01:52:43
What's new in Office 2019?