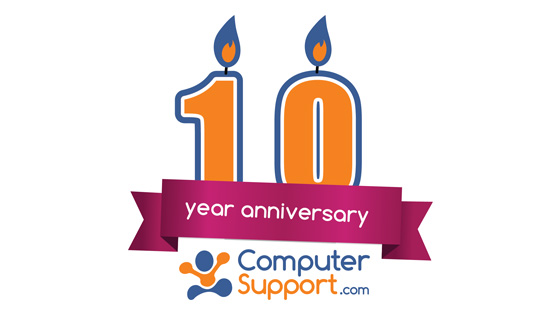 They say time flies, and we cannot agree more. Ten years is a long time, but years go by in the blink of an eye – especially working in a fast-paced industry like technology. Some of us look back to the early 2000's and remember having the strange feeling that Nirvana would always be the best band in the world. The world is transforming and innovating at such a frenetic pace that we find ourselves slightly melancholic thinking that nearly 10 years ago, we had an idea, a dream and a goal. Now, that idea is a whole enterprise, made possible by a passionate team.
In 2005, Alex Ho and I met and had an idea. A year later, the foundation for ComputerSupport.com was laid. Here's a fun timeline and walk down memory lane on how ComputerSupport.com came to be amidst the technological and cultural events of the last decade:
2006, first year of ComputerSupport.com (formerly known as Spirinet), Kirill and Alex rent a basement office at 463 Worcester Rd in Framingham, Massachusetts and spend days working, and evenings dreaming. Meanwhile, Google buys YouTube for $1,650,000 and the billionth song is purchased from Apple iTunes. Amazon starts selling infrastructure as a service, AWS is born. Also, while ComputerSupport was infant, Pluto lovers felt sorrow when the planet was downgraded from a Planet to a dwarf planet by The International Astronomical Union (IAU). Pluto, you will always be a planet to us. #plutoisaplanet.
2007 – ComputerSupport.com picks up a handful of customers, and hires its first employee, Apple introduces the iPhone, thereby starting the mobile revolution. Meanwhile, Microsoft releases Windows Vista and Office 2007, while Halo3's release generated $170m within 24 hours. #gamersunite.
2008 – Despite the ongoing financial crisis, the World Wide Web continued to grow at a phenomenal pace. By 2008, Google had processed over 1,000,000,000,000 (one trillion) unique URLs, and releases Google Chrome. On the other side of the planet, Microsoft attempts to buy Yahoo for $44.6b (It's worth around $42b today), and ComputerSupport.com becomes one of Amazon Web Services' earliest partners. The cloud revolution has begun!
2009 – Ongoing financial crisis and recession which began in late 2007 continues, with many calling it the worst financial crisis since the Great Depression of the 1930s. Unemployment also increases, home prices drop, but that did not stop Microsoft from launching Windows 7, and Barack Obama to be inaugurated as the 44th President of the United States. The recession did not stop us either, and 2009 was the year ComputerSupport.com introduced ITAnyWhere Cloud, a hosted application and hosted virtual desktop service for SMBs, one of the first service to be 100% based in AWS.
2010 – What were you doing in 2010? Because we were busy moving offices! ComputerSupport.com's new home is at 111 Speen Street in Framingham. ComputerSupport.com also formally drops the name Spirinet. Meanwhile, Apple released the iPad, taking touch screen computing to new levels, and Facebook has had its biggest year yet, crossing the 500 million registered member mark.
2011 – AT&T announces plans to buy T-Mobile for $39 billion, Microsoft Corporation acquired Skype Communications, Google launched Google+ Social Network, and ComputerSupport.com had a huge growth year, growing by over 50%!
2012 – Remember the apocalyptic predictions of the Mayan calendar? They haven't come true yet! However, in the year 2012, Microsoft got our attention with its Windows 8 release, and Google for getting its first licenses for autonomous cars in Nevada. While some were praying for the Mayans to be wrong, and others were excited about new cars, we were busy introducing VDI – Hosted Virtual Desktops. As an addition to ITAnyWhere Cloud, customers could now leverage hosted virtual desktops to make their workspace as a service really work for them.
2013 – ComputerSupport.com made its first acquisition, entering the exciting and challenging world of Legal Services. We also remember 2013 because of smart watches: designers of the Pebble watch realized that a mobile phone is more useful if you don't have to take it out of your pocket.
2014 – Even as we harvest technology, we can't remain untouched by the release of agricultural drones in 2014. Relatively cheap drones with advanced sensors and imaging capabilities gave farmers new ways to increase yields and reduce crop damage. ComputerSupport.com introduces managed cloud services – initially providing Managed AWS, and subsequently, Managed Azure services. Oh, and Pluto is back being a planet. That, indeed, makes us happy. #plutoisaplanet.
2015 – Last year, ComputerSupport.com was named to the Boston Business Journal Fast50! We thank all of our customers and employees for helping make us one of the fastest growing tech companies in Massachusetts. Meanwhile, Apple got into wearables with its Apple Watch, and Tesla's Autopilot made self-driving cars a reality, or close to it (accident prone, but only occasionally). We cannot forget about the magical tech around Volkswagen, caught using software to trick emissions tests. Thanks, Volkswagen, for an easy winter.
If we think about it, based on Einstein's theory on space and time, the only reason for time is that everything doesn't happen at once. So, with that, for 2016 we wanted to leave a blank page, and let things happen as they do, so we can write about them later. See you in 2026!
By Kirill Bensonoff, Co-Founder, ComputerSupport.com
https://www.computersupport.com/wp-content/uploads/2016/09/10-years-anniversary-1.jpg
315
560
Raluca Neagu
https://www.computersupport.com/wp-content/uploads/2019/08/StratusPointIT-ComputerSupport-logo.png
Raluca Neagu
2016-09-07 12:24:53
2018-03-07 08:49:05
10 years of ComputerSupport.com. Then and Now.