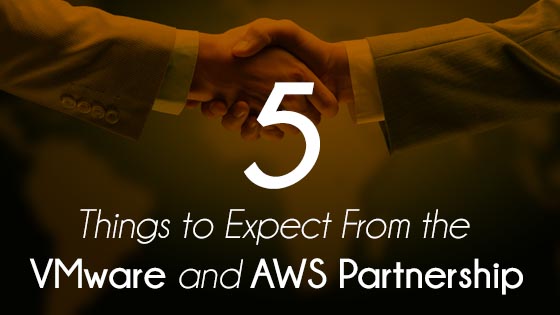 VMware and AWS – long time rivals have joined hands recently, and can be easily viewed as the biggest cloud/virtualization related news of the year, which could bring a lot of changes in the industry. In order to understand the importance of this partnership, we firstly need to see what VMware and AWS represented. When companies were deciding on how to design their infrastructure, they had to choose between VMware and AWS most of the time. VMware was the best choice for a scalable/flexible in-house server, while AWS was the best choice for clouds. VMware itself tried to get into the cloud business but it wasn't successful. This isn't the first time rivals have worked together in the tech world; there was a time when it was surprising to see Microsoft announce Office products for Apple computers.
Companies will switch en masse to AWS
The partnership is a lifeline for VMware, as well as a great source of clients for AWS. The problem with VMware was that it didn't have a viable cloud side. Companies felt that they would be left behind if they stayed on VMware. The problem with moving to AWS was that the company would have to repurpose all their virtual machines and start from the scratch to make everything work on AWS. This was a huge roadblock for companies that had invested a lot of time and effort into VMware in the previous two decades. All these companies now have an easy way to enjoy AWS's many features while still using their old VMware machines.
AWS enters the hybrid market
This is the first product/service that allows AWS to dabble into the hybrid cloud market directly. AWS has been entirely cloud focused and industry experts were waiting on them to launch a hybrid solution. It seems that AWS may never directly enter the hybrid market, but may leverage more partnerships which allow AWS to be used for hybrid purposes. The VMware solution for AWS will be sold through VMware – so in a way AWS still isn't directly in the hybrid market but they are still benefitting from it through VMware.
AWS services on VMware
The most exciting part of the announcement for many people is that they will finally be able to use AWS's many fantastic tools on their VMware systems. AWS's basic strong point is the cloud architecture but it is loved because of the many analysis and other tools available on it. VMware users could not use advanced tools like AWS and VMware's own tools could not stand up to AWS's. This is now changing because through the solution most of AWS's tools will be coming to VMware and their users.
AWS will dominate the cloud market even further
Microsoft and IBM were probably the most disappointed by the announcement. VMware entered into similar agreements with them previously and they were hoping to leverage VMware to get a jump on VMware. However, none of them have viable solutions for VMware users right now. To be fair, neither does AWS, but they are planning to launch something by the year 2017 and are already testing the services internally. It seems that in the end, AWS will have the jump on both IBM and Microsoft and may be the first to open the VMware beta to public users. AWS is here to stay and it seems that it will be the cloud platform of choice for a long time to come.
VMware will become easier to manage than ever before
VMware users have another reason to be excited by – some of the most painful parts of running a VMware system just disappeared. It can be hell to upgrade VMware while ensuring everything else works just fine. Companies had to constantly be on top of patches and updates to ensure their systems ran smoothly. Now, thanks to the cloud infrastructure, there will be no more updating or patching required for VMware systems. This may also increase the number of companies willing to use VMware.
Conclusion
All in all this, is a very exciting time for cloud services. We will be keeping a close eye on the official blogs of AWS and VMware to see the latest updates of this partnership.
https://www.computersupport.com/wp-content/uploads/2016/11/5-things-to-expect-from-the-VMware-and-AWS-Partnership.jpg
315
560
Raluca Neagu
https://www.computersupport.com/wp-content/uploads/2019/08/StratusPointIT-ComputerSupport-logo.png
Raluca Neagu
2016-11-14 09:32:33
2016-11-14 09:32:33
5 things to expect from the VMware and AWS Partnership