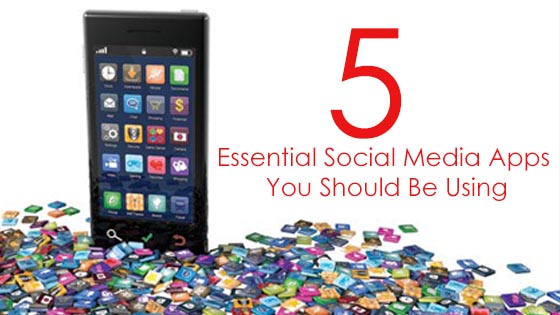 Social media is the most important media of our age. You can combine television viewership, radio listeners, newspaper readers, and more without reaching the number of people that use social media. If you are running a company then it is absolutely essential for you to run a proper social media marketing campaign. Making sure all your social media is in sync can be overwhelming, as can be quickly editing and creating social media posts. Here are 5 apps that will make it much easier to navigate the social media world like a pro.
Adobe Post
Social media is very much a visual medium. If you want people to click on your posts and interact with your campaigns you need flashy and snazzy graphics. Thanks to Adobe Spark Post you don't have to be a Photoshop expert to create stunning graphical headers for your posts. The app is easy to use and has a lot of presets you can customize. In just a few minutes you will have the picture you needed for your blog or even for sharing on photo-sharing apps like Instagram or Snapchat. There are many other similar apps but Adobe's app is one of the most professional and technical apps for pros.
SecureMySocial
This one is more for limiting the damage that can be caused by bad social media posts by your employees. Multiple companies have been hit with negative customer feedback because their employees – on their personal accounts- made inappropriate remarks. People could see on their social media pages where they worked and the companies got hit with a backlash. SecureMySocial works by tracing the posts of your employees and letting you know if there is something you should be worried about. It also has the option to send an immediate notification to the employee if they are breaking a rule about social media posts regarding your company. This is one of those services you think you don't need until you get in trouble.
Canva
Canva is also an app for ensuring you have the right social media picture – but it is more of a combined photo-store and editing suite. Canva's strong point is that there is a lot of variety available when it comes to pricing. So if you are looking for a picture whose publishing rights you can buy without spending too much money, Canva can be a lifesaver. Another great thing about Canva is how easy it is to use. You can quickly create graphics that look like they were made by a professional, thanks to the many themes and effects available.
Brand24
When it comes to social media it is important not just to begin a conversation about your brand but to also look at what people are saying about your brand. This is important because if there is a rumor or lie spreading about your company online it is important to nip it in the bud. Even more important is the fact that something damaging can spread to millions of users online and by the time you find out about the issue it may be too late to fix things. Brand24 allows you to keep an eye about all the conversations happening about your brand on different social media websites and apps. It is also great for keeping track of your marketing efforts.
Buffer
When running any social media campaign it is important to make sure your campaign is coordinated on all the different mediums. Buffer is a fantastic tool that allows you to manage all of your social media posts. You can do a lot with buffer. You can send a post to multiple pages with just a click. The best part is the scheduling – you can manage your social media posts by scheduling when they will go on to your social media pages. This is how most professionals do it – instead of just making a post when they feel like it, they have a proper schedule of all the posts that need to go up.
Conclusion
There are many other social media apps as well. You first need to cover the basics – Facebook ,Twitter, Tumblr, Snapchat, and Instagram. Once you have a good handle on how the different social media services operate you can customize your campaigns for them. Remember that all of them have very different cultures. You may be able to use the same posts on Twitter and Instagram both but the other social media services are a bit too different.
https://www.computersupport.com/wp-content/uploads/2016/11/5-essential-social-media-apps-you-should-be-using.jpg
315
560
Raluca Neagu
https://www.computersupport.com/wp-content/uploads/2019/08/StratusPointIT-ComputerSupport-logo.png
Raluca Neagu
2016-11-11 05:00:01
2016-11-11 05:59:17
5 Essential Social Media Apps You Should be Using