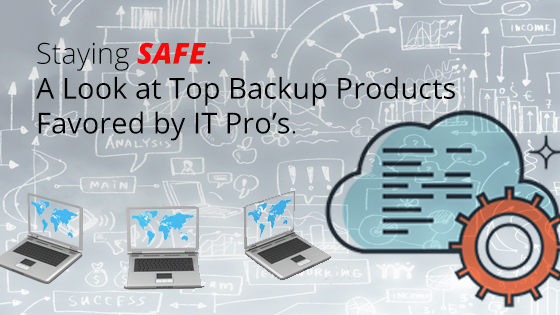 Cloud backups have finally become the norm. Lowering storage costs, better information technology infrastructure, as well as a better understanding on advantages of cloud backup have increased cloud usage manifold. When you go out to purchase cloud backup services, you'll be overwhelmed with a lot available choices. Here are some of the best cloud backup solutions available and what they offer. Also, don't forget to always test your backup recovery plan!
Datto
Datto is one of the most popular cloud backup solutions, and it is easy to see why (disclosure: ComputerSupport.com is a Datto Elite Partner). They have great offerings targeted at different types of companies (the Alto solution is geared towards SMBs and the Siris is for larger companies) and the features they provide are numerous. Many IT professionals swear by Datto simply because Datto has a proven track record of reliability. Datto's hardware had some issues in the past, however, those have been rectified and its' platform is solid; the cloud backup solution is robust and works perfectly. Datto is already one of the biggest names in the cloud backup industry, and has continued its momentum by adding cloud to cloud solutions with the purchase of Backupify.
Cloudberry
Cloudberry is fast becoming a competitor to Datto. Do note that when it comes to local storage, Cloudberry acts as software, not as the storage solution itself. You will have to use something like Amazon Glacier in order to fully enjoy cloud and local backup services, but the software is very comprehensive and has fantastic reporting tools. Another advantage of Cloudberry is that they offer a lot of specialized products (disclosure: ComputerSupport.com's ITAnyWhere Vault uses CloudBerry's software). Unlike Datto that have more of a one-product-fits-all approach, Cloudberry has over 20 different solutions. These solutions are specially designed for different operating systems, as well as different use cases. The advantages of this approach are that you will only be paying for what you need and the solution will be specially designed for your type of use.
E-Folder
E-folder isn't as well-known as Datto or Cloudberry, but that will be changing fast (disclosure: ComputerSupport.com uses E-Folder's Anchor software in its' Secure.Share product). The best part about E-Folder is the freedom you get by working with whatever tools you want. You can use StorageCraft, Replibit, or E-folder's own backup service as well. E-folder is also very well priced, which makes it a great choice for smaller enterprises. Another huge advantage of E-folder is that they have excellent business continuity solutions. They offer a hybrid cloud service that allows you to recover any lost servers on virtual machines instantly. You can have the virtual server up and running in a matter of minutes. This is especially effective if your clients are in an area where there is a lot of risk of communications going down. E-folder is also excellent for companies that have secure data which they need to access at all times. Legal firms, companies that have to comply with HIPAA, and financial firms will be well served by E-Folder.
https://www.computersupport.com/wp-content/uploads/2016/06/Staying-Safe-A-Look-at-Top-Backup-Products-Favored-by-IT-Pro's.jpg
315
560
Raluca Neagu
https://www.computersupport.com/wp-content/uploads/2019/08/StratusPointIT-ComputerSupport-logo.png
Raluca Neagu
2016-06-14 07:26:01
2018-01-16 12:55:05
Staying Safe - A Look at Top Backup Products Favored by IT Pro's