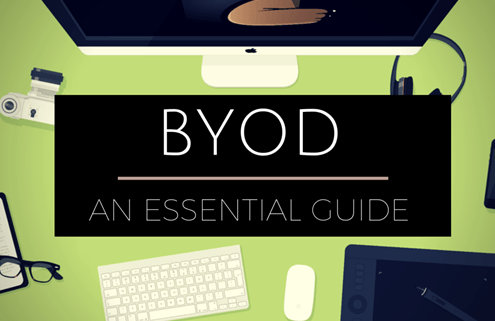 In today's shifting world of technology and devices, SMB companies are supporting more mobile devices as a key initiative and according to Gartner, BYOD adoption will reach 90% this year. BYOD keeps many CEO's up at night, but this is easier than you would think. CEO's are faced with concerns of improper use of BYOD at the office and the impact these issues can cause their businesses. Developing an all-inclusive BYOD policy and technical guidelines for your employees will allow you to be secure. BYOD has many benefits and is worth considering if done properly. It's a situation in which thinking about the sources from where data threats come from.
Create a BYOD Policy
There are various resources and information accessible such a guidance or templates on how to set up BYOD policies. Every company is different, so use resources as a starting point when creating your company BYOD policy.
Example BYOD Policy for SMB
Anti-virus and security application requirements.
Approved list of applications
Set up devices with locked screens
Approved access to data (files, intranet, calendar, email and apps)
Permissible access (VPN, LAN, Public Networks)
Approved devices (laptops, smart phones, tablets)
Password policies (8 character minimum, mix of numeric and alpha)
Stolen devices (Wiped remotely)
Secure data (Backup data created and saved locally on users personal machines)
When your employees are able to use personal devices for work related activity and systems, traditional network firewalls are no longer effective. You should consider Cloud technology services to protect your network in a BYOD environment by using measures like data loss prevention (DLP) or secure web gateways (SWG). DLP allows data to be transferred out of your network securely and SWG can stop threats like malware before it reaches an employee's device or your network.
Any BYOD policy should include a VPN for data security. Choosing the right one is not easy, but there are companies that test VPNs on regular basis and share valuable insights on their platforms such as VPNRanks.
Cloud backup systems are very user-friendly and many SMB's embrace them as a complete solution. One employee's failure to follow best practices and procedures could create cracks or system weaknesses. Rest easy by having employees back up instead of saving data to an in-house system.
Once your system is in place, have a schedule to regularly test it to be sure that you're capturing the data you've targeted. With research and planning a BYOD policy, you will gain the self-assurance you need to avoid losing sleep over the decision whether or not to embrace BYOD.
https://www.computersupport.com/wp-content/uploads/2015/04/BYOD_副本-e1427924151575.png
200
248
Kirill Bensonoff
https://www.computersupport.com/wp-content/uploads/2019/08/StratusPointIT-ComputerSupport-logo.png
Kirill Bensonoff
2015-04-01 17:17:56
2020-11-26 00:02:07
BYOD – An Essential Guide For SMB's Executive Team