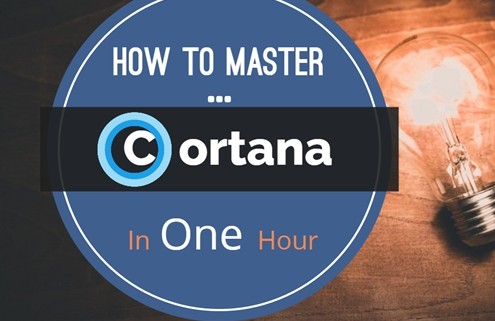 The new Windows 10 operating system, which is available for free download, comes with a range of new benefits and customization tools taking user experience to a whole new level. One of these features is none other than the highly acclaimed voice-responsive search program and tool, Cortana.
Here, we bring to you a guide to how to master Cortana within an hour and use it to its fullest.
Why Cortana is important in Windows 10?
Cortana, contrary to what people would think, is more than just a search tool. As a matter of fact, it has the features to rival Apple's Siri. Named after the an AI character in the Halo game franchise, Cortana can be used to alert you of scheduled meetings, wake you using alarms, check your local weather, and even tell you a joke. Cortana is your personal administrative assistant or secretary.
"Windows has always been grounded in the idea that technology should help individuals and organizations do great things"

— Terry Myerson, Executive Vice President of operating systems, Microsoft
Setting up Cortana
Setting up Cortana is simply a matter of a few clicks. The operating system will ask you for your name or nickname which Cortana will call you. Give your first name or any other name you would like your AI secretary to call you, to proceed to the next step. It will then ask you for your location which you can either give or not give depending upon your privacy concerns. However, if you want to be able to benefit from personalized local results by Cortana, you will need to enter your geographic location.
Afterwards, you can search for 'Cortana settings' in the search bar on your taskbar and click on the first result to access a number of options. In the first option, you can disable the active part of Cortana entirely. So if you are tired of Cortana notifying you constantly of tips and alerts, then this how you turn it all off.
With the second option, you can configure Cortana to respond to you saying 'Hey Cortana'. You can make this function work more accurately by clicking on the 'learn my voice' program. This will take you through a number of steps to ensure that your microphone is working correctly and literally 'learn' your voice patterns so you can instantly activate Cortana.
However, if you are using a laptop, it can use up a lot of the battery power. You can turn off this detection by toggling the 'Hey, Cortana' switch to 'Off'.
Using the Cortana search button
Cortana is located on your desktop taskbar. You can either click it to give a voice command, or simply type in the information you wish to look for. If you want to hide the search box completely, simply right click on it, go to 'Cortana' and click on 'hidden'. This will completely hide Cortana, though you will still be able to access keyboard searched by pressing the Windows button + S.
Cortana Home
When you search for anything, you will notice a home screen of Cortana which contains a summary of your personalized items and latest news stories. Think of it as Flipboard app but exclusively that of Microsoft. You can easily navigate to the different articles and news stories and expand by clicking on them. You also have the options of either removing a sub-section from the home page, hide it, or simply edit in Notebook.
Cortana Notebook
Cortana also offers Notebook, a feature which helps save your personalized searches on a variety of topics such as:
Eat & Drink
Events
Finance
Getting Around
Meetings & Reminders
Movies & TV
Music
News
Sports
Travel
Weather
These categories can also be removed if you feel they are not relevant and also manually tweak them to make changes. The Notebook feature is a useful feature for Cortana to learn more about you as a person and your personal preferences. For instance, in the case of Eat & Drink, Cortana can suggest you new deals at your favorite restaurants.
https://www.computersupport.com/wp-content/uploads/2015/09/MasterCortanaOneHour.jpg
400
495
Kirill Bensonoff
https://www.computersupport.com/wp-content/uploads/2019/08/StratusPointIT-ComputerSupport-logo.png
Kirill Bensonoff
2015-09-24 15:34:55
2017-01-06 10:53:51
How To Master Cortana In One Hour