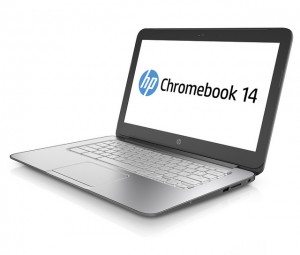 In an effort to compete with the Google Chromebook, HP is preparing to launch the HP Stream, a laptop that connects directly to the internet. While the Stream has the form factor of a regular laptop without the hard drive. Like the Chromebook, the HP Stream's keyboard makes it better for business users than a tablet, while still being affordable.
The Benefits
At a cost of $199, the HP Stream is priced below the Chromebook, which makes it a competitor to the similarly-priced Chromebook. But while Chromebook runs on Android, HP's laptop operates on Windows 8.1, which takes advantage of Microsoft's price reduction of its operating system for use on less expensive systems.
With each HP Stream purchase, customers receive 100 GB of Microsoft OneDrive storage free. Since the Stream doesn't have a hard drive, this cloud storage is essential for storing files. All applications will need to be run directly from the cloud or office servers. This is similar to Chromebook and similar devices that are priced inexpensively due to their lack of local features.
The Specs
According to leaked information reported on a site called Mobile Geeks, the HP Stream 14 will be a beefed-up version of HP's Chromebook 14, which has been on the market since late 2013. The RAM, ports, and display will be the same as the Chromebook 14, but the Stream will have a more impressive processor. The HP Stream is said to have a 1.6GHz AMD A4 Micro-6400T quad-core processor.
Before choosing the HP Stream for your business, do a quick inventory to determine if you can run exclusively from the cloud. As more businesses make the move toward cloud connectivity, devices like Stream and Chromebook will become viable options. The keyboard, fast processing speeds, and lightweight build make it a great option for employees who spend most of the day on the road. At a price of $199, it may be a great alternative to a tablet.
https://www.computersupport.com/wp-content/uploads/2014/08/stream-300x2551.jpg
255
300
Kirill Bensonoff
https://www.computersupport.com/wp-content/uploads/2019/08/StratusPointIT-ComputerSupport-logo.png
Kirill Bensonoff
2014-08-22 06:00:31
2018-01-16 12:21:38
HP Stream Laptop Includes 100 GB of Cloud Storage