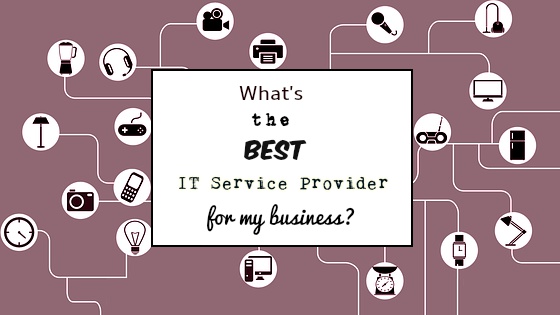 Some might say that the best provider offers both affordable and complex IT services.
But how complex? Does my business need all the services they offer?
So, we all agree there are no easy answers to our questions. Therefore, I would be more interested in getting a customized offer instead of a standard one and for that, the IT services provider needs a qualified team, a trustworthy partner who is able to ask the right questions, to learn quickly how your business operates, what software and hardware does it need to enhance all the business variables, not only technology, because all of them are connected.
There are few more aspects involved in choosing the best IT support provider for your business and I will analyze them one by one.
Remote & onsite emergency support
It would be more efficient to hire a provider that has the infrastructure to offer remote support and monitoring, backup services, disaster recovery solutions, but also the manpower and necessary equipment to install hardware devices and ensure your network is running properly and securely.
24/7 support
In case something gets broken and for security purposes, your business network should be monitored every minute. Nowadays, 24/7 technical support is imperative for almost every company.
Adopt new technology
Any business IT services provider should be willing to adopt new technology. Make sure your provider makes no exception.
Data security
Security is a priority. Make sure your IT services provider's top priority is the security of your business. In case you need to access and share your business files securely from everywhere by using several mobile devices, or in case you need a VPN deployed and configured or maybe you need to perform internal "phishing attacks" to see which users are the most vulnerable, and where additional internal training is needed etc., find out what your options are. Try to cover all the relevant security areas: identity, data, and network.
Experience comes 1st
Especially regarding professional services, always choose "the experience card". Besides years of service in the industry, find out what is their customer retention rate and ask for staff certifications and awards.
Nationwide coverage
For many organizations, having offices in different areas of the United States is necessary. If this is your case too, it's usually more efficient to choose a nationwide provider over several local ones.
Virtual CIO meetings
A top IT services company will schedule meetings to discuss your technology needs, roadmap and budgeting.
Dedicated Cloud Services
In case you don't want to spend money on servers, on securing them, on backup and disaster recovery services, you can choose a desktop as a service solution – a Hosted Virtual Workspace. You will run all your applications from one place and you will be able to access business data from any PC, tablet, laptop etc. through a secure connection. It is a scalable service and you will pay only for the capacity that you need. It's cost-efficient and most importantly, secure.
P.S. Don't forget to build up a shortlist of IT services providers and it's also a good idea to check what customers have to say about their IT support providers and their services.
https://www.computersupport.com/wp-content/uploads/2018/03/IT-Service-Provider.jpg
315
560
Mihai
https://www.computersupport.com/wp-content/uploads/2019/08/StratusPointIT-ComputerSupport-logo.png
Mihai
2018-03-13 09:08:03
2018-03-13 09:11:48
What's the best IT service provider for my business?