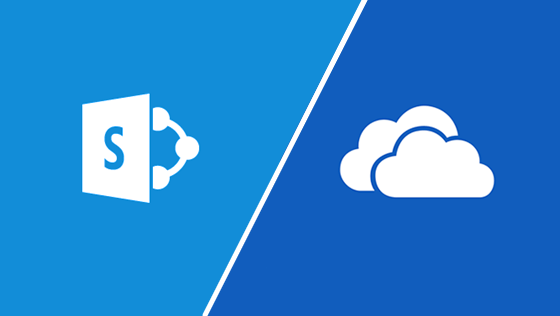 Microsoft's cloud-based suite of programs is growing rapidly, and it includes several tools that have so much in common, yet there are so different because their design goals are divergent.
Briefly, OneDrive is a cloud-based document/file storage platform, typically used by individuals, but also by teams who need a singular platform to store and access their files. OneDrive's versioning and sharing features make teamwork easier once private documents are shared. It's essentially an online folder system and doesn't include some of the resources available in SharePoint and the larger Office 365 cloud suite.
On the other hand, SharePoint is a more complex solution, a collaboration tool for businesses that have their employees and teams to work on documents and products at the same time. Over the last few years, Microsoft has released several updates to their Office365 suite which now includes SharePoint features and applications, but also the OneDrive storage platform, making those available on any device.
OneDrive gives your team members access to documents for storage/sharing purposes and tracks file versions, but SharePoint gives your team a collaborative workspace with dashboards, tasks, workflows, wikis, calendars, notifications, and updates.
You can set up a SharePoint site for each of your teams – marketing, sales, etc. You can configure a portal for your organization to host and manage searchable company-wide libraries and notifications. Also, you can assign each employee a security level to allow or forbid access.
Document and Resource Management
Many companies use SharePoint for company-wide document and file collaboration. Office 365 offerings provide collaborative workflows and granular permissions to help you move content from idea to publication hassle free. Your marketing and sales teams will appreciate SharePoint's white label feature that allows you set up a customized intranet for your organization.
OneDrive (for Business) now contains all the original SharePoint document offerings, including workflows, auditing, templates, and version control. What it doesn't include are some business operations resources, as for instance: business process automation with Microsoft Power Apps and Microsoft Flow, no maximum number of users etc. The business owns the account, and each user is assigned a personal account under the business's account where individual documents can be created and stored before they are shared to a group of people.
Note: Both SharePoint and OneDrive allow synchronization, a great mobility feature, enabling you to save your files directly on your OneDrive/SharePoint folder from any connected device, anywhere in the world.
Encryption & Compliance
Organizations concerned with document safety or regulatory compliance benefit from SharePoint's version control and user permission settings. This way companies can control the security of their internal documents, but also their customer data.
Both Office 365 and OneDrive use encryption to keep documents safe. The entire Microsoft cloud platform supports SHA-2 and TLS security protocols. Microsoft encrypts all your data upon transfer to and from their servers and stores it on Microsoft Azure in encrypted form.
Choose the best option
As a matter of fact, clouds are more secure than traditional IT systems and if you add the benefit of having Microsoft handle your software updates, you may find Office 365 a viable solution which integrates both OneDrive and SharePoint capabilities.
If you're looking for a collaborative document management system for your business, SharePoint is the ideal solution. It offers several integrated apps and productivity tools to help your team members stay in touch and coordinate their tasks. Sometimes individual files grow in importance and become crucial to certain projects. When that happens, it makes perfect sense to copy files from OneDrive for Business to a SharePoint team site.
On the other hand, in case you're interested only in storing your documents, syncing and sharing them occasionally, OneDrive should be your first option.
Still can't decide between SharePoint and OneDrive? Contact us and we'll help you take the best decision!
https://www.computersupport.com/wp-content/uploads/2018/09/SharePoint-OneDrive-min.png
316
560
Mihai
https://www.computersupport.com/wp-content/uploads/2019/08/StratusPointIT-ComputerSupport-logo.png
Mihai
2018-09-26 05:18:11
2018-09-26 05:46:06
OneDrive or SharePoint? Business perspective.