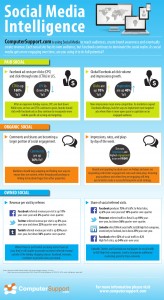 Like businesses around the globe, ComputerSupport.com realizes the power of social media to reach today's audiences. While there are multiple social networking channels available to businesses, there is one site that still maintains prominence. A new study shows that Facebook remains the best avenue for advertising.
A Revealing Report
Adobe Digital Index published its findings in its Social Intelligence Report, which highlighted recent growth and loss in the social media industry.The report not only looked at paid advertising on social media, but also organic marketing efforts, such as shares and likes. Overall, the report reveals that Facebook is still a clear leader in both paid and organic social media marketing efforts.
During the holiday season, businesses saw the rates for Cost Per Clicks (CPCs) on Facebook increase 120 percent year-over-year. The report reveals that these costs are down two percent from last year at the same time, giving businesses a great opportunity to take advantage of the many mobile-specific ad targeting features available through the platform. Click-Through Rates (CTR) are up 160 percent from last year for Facebook advertisers, proving the power of advertising through this medium.
More Impressions
Both clicks and impressions are up significantly from last year for Facebook advertisers, with businesses experiencing a 70 percent YOY growth in clicks and a 40 percent YOY increase in impressions. This has a flip side for businesses, however, since more impressions mean more competition. Businesses should seek out ways to stand out through targeted ads.
Organic social marketing efforts are also paying off in a big way, with comments up 16 percent from last year. The study found that comments and shares are becoming a larger portion of social engagement, but marketers should continue to observe campaign results to determine whether paid social or organic social is more successful in engaging customers. If marketers are unsure which is the best day to post or deploy ads, the most impressions and highest engagement levels occur on Fridays.
Facebook is still the leader in revenue, with referred revenue per visit increasing 11 percent since last year and two percent since last quarter. Facebook also produces 75 percent of traffic to retail sites, which is an increase of two percent since last year and 13 percent since last quarter. Twitter saw a significant increase since last quarter–23 percent–but was up only five percent since last year.
Perhaps the biggest gains were achieved by relative newcomers Pinterest and Tumblr. While Tumblr revenue increased 55 percent from the previous year and Pinterest referred traffic was up 59 percent, there is a downside. Both sites saw a significant decrease since last quarter, with Tumblr down 36 percent and Pinterest down 56 percent.
To see a more detailed analysis of the report, click on the link below.
Social_Media_ComputerSupport_Infographic_0514_FINAL (1).
https://www.computersupport.com/wp-content/uploads/2019/08/StratusPointIT-ComputerSupport-logo.png
0
0
Kirill Bensonoff
https://www.computersupport.com/wp-content/uploads/2019/08/StratusPointIT-ComputerSupport-logo.png
Kirill Bensonoff
2014-05-16 06:00:58
2019-04-23 11:04:42
Social Media Intelligence Report Shows Facebook Dominance