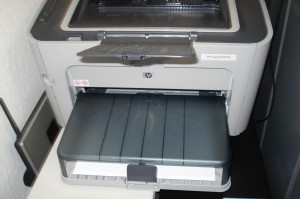 Have you ever had a visitor in your office that needed to print something? Maybe you've been in a meeting offsite with a need to print a contract or invoice. Thanks to cloud technology, people in your office can print from a smartphone, tablet, PC, or Mac with no IT support services required. This will allow guests to quickly print what they need without the commitment of a driver installation.
To make cloud printing work, professionals need the right tools. Here are a few cloud-printing solutions that can send documents straight from a device to a printer without software installs.
HP Mobile Printing
HP's mobile printing solutions allow a user to print to an HP printer from any iOS, Android, Windows 8, BlackBerry, or Amazon device. The printer must be wireless enabled and each device has its own instructions. Documents can also be sent to HP Public Print Locations, which includes FedEx Office stores, UPS stores, Walgreens, hotels, airport lounges, and other participating locations.
While advancements in technology have cloud-ready printers, Google Cloud Print can handle both classic and new printers. Classic printers connect through Google Chrome, where they reside on the internet. From that point forward, other users connected to that network can print to the printer without installing any software. Cloud-connected printers connect to the internet without going through a PC, making setup easy.
With Printopia, iOS users can print directly to any wireless printer through the app. Printopia also adds a "Print to Mac" feature to a home's network, which stands to eliminate paper altogether since documents can be sent to an iPad, Mac laptop, or iPhone using this feature.
Printer drivers are becoming an outdated concept as businesses utilize cloud solutions for printing. In an era when mobile devices are increasing in prevalence, cloud printing gives professionals and personal users a variety of alternatives to traditional printing.
https://www.computersupport.com/wp-content/uploads/2019/08/StratusPointIT-ComputerSupport-logo.png
0
0
Kirill Bensonoff
https://www.computersupport.com/wp-content/uploads/2019/08/StratusPointIT-ComputerSupport-logo.png
Kirill Bensonoff
2014-05-14 06:00:41
2018-07-20 08:35:25
These Apps Can Help Your Employees, Clients Cloud Print