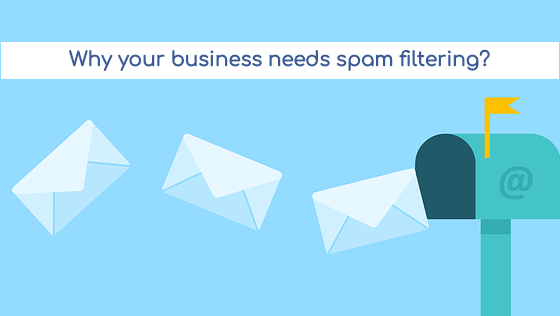 Getting spam emails is quite usual these days, and this is because there are many ways for spammers to exploit emails online. If you have at least one email address, you are more than likely to have received emails that contain irrelevant and unwanted advertising of a product/service or emails trying to sell you something that you never thought of buying.
How do these organizations find out your email address and what can you do to stop these messages from consuming your email storage space? Not to mention that you need to waste some of your time to remove those unsolicited emails.
Spam protection for your business
When you have a business, getting rid of spam is crucial because these can eat up a lot of your inbox storage space, but most importantly because they can carry malware and viruses that can compromise company security along with other sensitive information.
NOTE: There are companies that buy email addresses from obscure organizations that sell stolen lists, while others use software that scan web pages for email addresses.
Q: What can you do to stop these from overwhelming your work email, and compromising your company's security?
A: You could use spam filters.
Spam filtering is an extremely important tool that your business should use to keep these unsolicited messages from entering your inboxes, but also to keep employees from clicking on potentially harmful links or downloading suspicious attachments within emails.
There are studies revealing that almost half of the emails that you get are classified as junk or spam. Unfortunately, there is a large potential for security issues due to these messages, not to mention the productivity drops because of the time people will spend on removing such emails from their inbox.
Several types of spam filters
If you believe spam filtering to be a business necessity, you should know that there are several types of spam filters that can be applied. Some of them analyze the content of emails to determine if these are relevant to your business or not, while there are some that filter emails out by checking the headers of the messages that are sent your way.
Some filters can be set to ignore all emails from specific addresses, while others allow you to enumerate relevant parameters to define what kinds of emails are irrelevant to their recipients.
From the business perspective, what you use to help keep spam out of your organization's emails is related to what you want it to do. So, if you are looking for some extra protection and a higher security for your business, you should consider getting a permissions-based spam filter. If you just want to restrict the inrush of newsletters, sales emails, and irrelevant ads that employees receive through their email service, you can opt for something elementary like content-based filters or header filters.
ComputerSupport LLC provides a complex email protection and continuity product that helps defend against the latest threats like spear-phishing, ransomware, impersonation and other targeted attacks.
https://www.computersupport.com/wp-content/uploads/2019/07/spam-filtering-for-businesses-min.png
316
560
Mihai
https://www.computersupport.com/wp-content/uploads/2019/08/StratusPointIT-ComputerSupport-logo.png
Mihai
2019-07-08 05:56:48
2020-07-30 06:02:42
Why your business needs spam filtering?