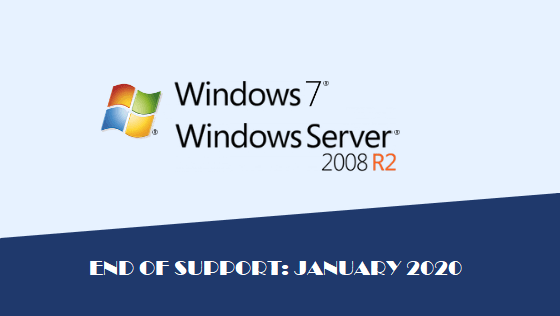 It will be the end for Windows 7, Windows Server 2008 / R2 and Small Business Server (SBS 2011) in January 2020. This means that Microsoft will put an end to security updates, bug fixes, and support for all these operating systems.
Microsoft made a commitment to provide 10 years of product support for Windows 7 when it was launched on October 22, 2009. When this 10-year period ends, Microsoft will discontinue Windows 7 support so that they can focus their investment on supporting newer technologies. This is standard practice for each product/service they launch.
Microsoft introduced Windows 7 in July 2009. Several enterprise customers deployed Windows 7 months before Windows 10 was launched in July 2015. Microsoft officials said as of last October that more than half of all Windows devices in the enterprise area were running on Windows 10, with the rest running Windows 7 and other older versions of Windows. Yet the support clock has ticked on.
Security updates beyond January 2020
Microsoft officials have announced that Windows 7 users can continue to get security updates beyond the January 14, 2020 date.
NOTE: There are two ways, and both are designed for business customers, not consumers.
Microsoft has announced that will sell paid Windows 7 Extended Security Updates (ESUs) on a per-device basis with the price increasing each year until January 2023. These updates will be available to all Windows 7 Professional and Windows 7 Enterprise users with volume-licensing programs. On top of that, all customers who use Windows Software Assurance and/or Windows 10 Enterprise or Education subscriptions will get discounts.
Microsoft has agreed to provide ESUs for no additional costs to customers who utilize Windows Virtual Desktop service (WVD) which allows users to virtualize Windows 7 and 10, Office 365 ProPlus apps and third-party apps, running them remotely from Azure virtual machines.
Customers who want to virtualize Windows 7 after Microsoft support ends in January 2020 will be able to do so for three years with WVD.
Office 365 ProPlus on Windows 7
Microsoft will stop providing support and updates for Office 365 ProPlus on Windows 7 starting with January 15, 2020. Nevertheless, all customers paying for Extended Security Updates will continue to get support for three more years. In addition to Office 365 ProPlus, there are several more products that Microsoft will end support on January 2020, for example Exchange Server 2010, Windows Server 2008 / R2, and Windows 7 for Embedded Systems (except for Windows Embedded Standard 7).
NOTE: Windows 8.1 customers will continue to get security updates from Microsoft for free until January 10, 2023. Windows 10 users will get free support based on the date when their version of Windows 10 was released. Check Windows lifecycle support page from Microsoft for more details.
Although there's nothing to keep your business from utilizing these retired operating systems even after their End of Life (EOL) in January 2020, it would be best to keep them up to date to reduce the risk of a successful cyber-attack.  We expect Windows 7, Windows Server 2008 / R2 and Small Business Server (SBS 2011) will be specifically targeted by hackers due to the known vulnerabilities post January 2020.
https://www.computersupport.com/wp-content/uploads/2019/06/Win7-Server2008R2-EOL-min.png
316
560
Mihai
https://www.computersupport.com/wp-content/uploads/2019/08/StratusPointIT-ComputerSupport-logo.png
Mihai
2019-06-10 04:47:41
2019-06-10 04:49:01
Windows 7 and Server 2008 support will expire (2020)