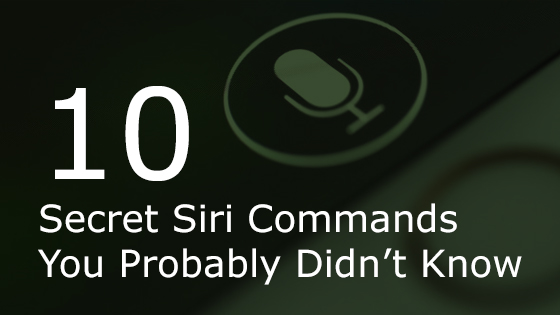 Most people do not realize how powerful and capable Siri's abilities are. Siri isn't just a way to search for stuff; she can do a lot and she can even talk to you. Pretty much everyone has tried asking her unusual questions to get funny answers. What most people don't know is that she also has many hidden useful features. Here are our 10 favorite such commands:
Remind me of this
You don't have to tell Siri what to remind you about every time you make a reminder. She also understands context clues and sets reminders automatically. So, for example, if you ask her when the next Patriots game is and get an answer, you can just tell her to "Remind me of this" and she will set a reminder for the next game.
What's my ETA
We love using military terms and feeling like we are spies. Siri is a great assistant for a spy! Just ask her "what's my ETA", and if you have set a location previously, she will tell you when you will reach there. The time is calculated based on your mode of transport as well as expected traffic, so it is quite accurate.
Roll the Dice
Playing a board game? You don't need to use dice anymore. Simply tell Siri to roll the dice and she will come up with an answer. The answers are quite random so your game will go on well.
Set up meetings
Siri does a pretty good job of learning about your contacts. If you tell it to set up a meeting with your banker, it will automatically create an event and send an invite to the banker as well. It is a very good way of keeping things organized.
Get specific photos
Want to show someone your vacation or trip pictures? Just tell Siri what pictures you want to see. Saying something like "Show me pictures I took in Las Vegas" will result in Siri showing pictures on your camera roll that you took in Las Vegas.
Get fit by keeping an eye on calories
Eating healthy is hard and finding nutrition information about what you are eating is often tough as well. Next time you want to make sure you don't eat something too fattening just ask Siri. Questions like "How many calories are in a McDonald's Apple Pie" result in detailed information.
Manage shopping lists easily
We love how easy it is to make sure we have all the things we need at our home thanks to Siri. Simply tell it to add things to the shopping list whenever you remember. No need to open the list or anything – just say "Add toilet paper to shopping list" and it will.
Airplane watching
This is one of our favorite Siri features. It is just so cool. Do you look up when you see an airplane flying by? Of course you do – who doesn't? Next time this happens, just ask Siri "What was that airplane above me" and you'll instantly find out who just flew over you.
Read your texts
Feeling lazy? Want to feel like you have an employee just to read out your letters to you? Just tell Siri to read your last few texts. You can reply straight from Siri as well.
Find out what song is playing
Often we find ourselves humming along to a song playing in a bar or on the radio. Simply turn Siri on and ask her what song is playing so you can listen to it later.
https://www.computersupport.com/wp-content/uploads/2016/10/10-siri-secret-commands.jpg
315
560
Raluca Neagu
https://www.computersupport.com/wp-content/uploads/2019/08/StratusPointIT-ComputerSupport-logo.png
Raluca Neagu
2016-11-03 09:53:39
2016-10-31 09:54:10
10 Secret Siri Commands You Probably Didn't Know