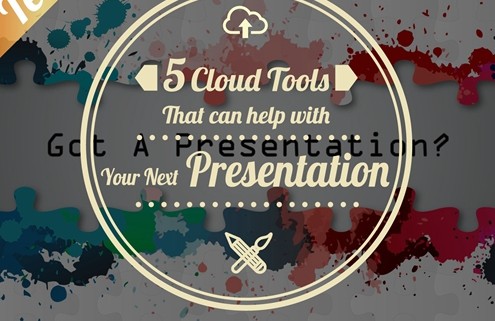 Visual aids are a part of any successful presentation in business today. Thanks to projectors and slideshow software, even the most complex concepts can be broken down in a way that's easy to understand. But the cloud has made it even easier to create visually-appealing presentations that you can access from anywhere, using your laptop or mobile device. But which tools are the best? Here are some of the best cloud-friendly tools available to businesses.
Cloud-Capable Projector
When it's time to shop for a new projector, you'll likely notice that cloud-connected projectors have hit the market in a big way. Mitsubishi is one of the early versions of these, with a line of projectors that can connect directly to the cloud–no PC or mobile device required. As these projectors continue to get more sophisticated, the need to hook up a computer or mobile device will likely disappear altogether.
SlideShare is an online tool that allows users to upload and share PowerPoint presentations, infographics and different types of documents. It also makes easy for individuals or organizations to organize large amounts of presentation documents and promote them online. Users can tag presentations, download or embed them into their own websites or blogs. Users can also share documents and conduct presentations privately. SlideShare lets its users to join groups to connect with SlideShare members who share similar interests. Business presentations make the most of the content. SlideShare also has a Facebook application for uploading documents.
eMaze is a new cloud-based application that makes it easy to create fantastic presentations. Its key features include tons of cutting edge graphics, plenty of beautiful sample presentations, and collaboration tools that make easy for people to work together on an engaging presentation. It also allows people to view and edit presentations on any device: desktop, laptop, tablet or smartphone.
Prezi
This cloud-based software makes it easy for anyone to create presentations. During the presentation, presenters can zoom in on specific items to emphasize points or size and rotate items during the creation process. Using Prezi's collaborative mode, up to ten users can log in and view a presentation in real time. Additionally, Prezi can be deployed on an iPad for one-on-one presentations.
GoToMeeting
With GoToMeeting, you can conduct presentations from your desk or home office with people located around the world. The cloud-based service is free for up to three people and meetings can be joined from a PC or mobile device. In addition to presentations, meeting participants can interact with each other via video chat and collaborate with each other.
Using these cloud-based tools, you can take your presentations to the next level. With mobile devices having freed up business professionals to work from anywhere, cloud collaboration will continue to be an increasing part of doing business.
https://www.computersupport.com/wp-content/uploads/2015/09/PresentationTool.jpg
400
495
Kirill Bensonoff
https://www.computersupport.com/wp-content/uploads/2019/08/StratusPointIT-ComputerSupport-logo.png
Kirill Bensonoff
2015-09-04 13:08:40
2022-03-28 04:11:57
5 Cloud Tools That Can Help with Your Next Presentation