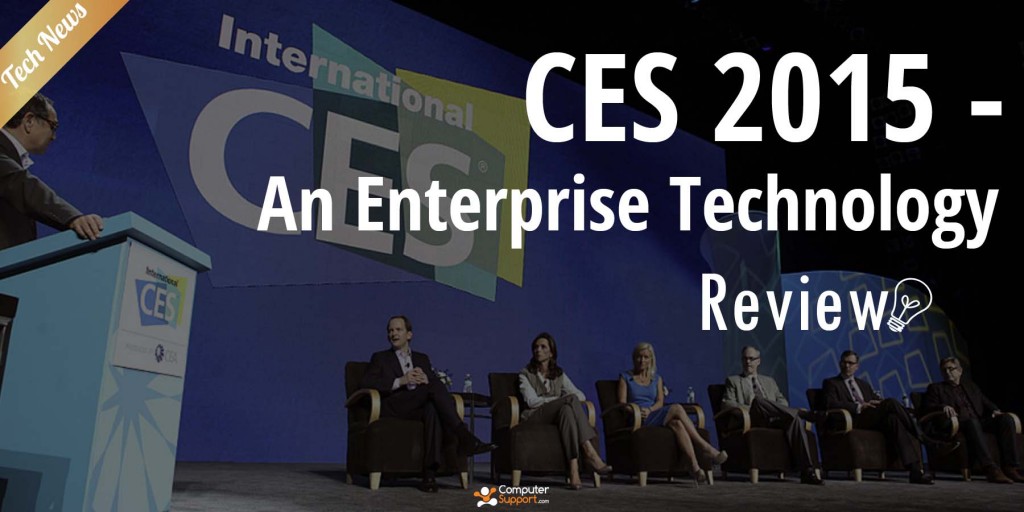 Last week's Consumer Electronics Show (CES) in Las Vegas unveiled some amazing new advances in technology. More than anything, we noticed a shift in technology with the underlying theme thin is in. Lightweight computers, handheld smart devices are now the standard for those companies looking to minimize their employee's work stations.
But if consumer electronics aren't part of your core business model, why should you care? It's a good question and one we pondered ourselves in a companywide staff meeting. The insight we gleaned is that digital disruption (shifts in consumer technology patterns) is lurking at every corner to sway your customers toward your competition.
So what new products were unveiled at CES 2015 that can improve your SMB?
Virtual Access
Our IT techs love the HP DL380z virtual workstation. It's becoming popular among companies that are migrating from traditional desktop environments to work from virtual spaces. But with a price tag of nearly $1400 per device, it may not be a wise investment if your company employs more than 50 employees.
A less-expensive alternative is to consider using an IT Cloud-based provider. Many CFOs now realize outsourcing their IT connectivity with Cloud technology empowers their users to access hardware and software without sizable capital expense.
One of the smartest reasons to convert to a Cloud-based environment is it allows you reduce your hardware and software expenses. But it's not just about saving money. In fact, the data analytic available using Cloud resources allows your IT technicians to pinpoint work flow trends among your users.
Connectivity Is Key
Despite CES 2015 centered around consumer product launches, we feel that's a cue for businesses of all sizes to consider. With new consumer trends shifting every week due to online community interaction, staying ahead of the curve is vital to growth.
One of the most memorable interviews at CES was with Samsung's President of Enterprise Business Marketing, Ed Abrams. He commented about one of the biggest struggles many organizations suffer is how to implement new technology into actionable, customer-centric measures. Abrams suggests companies should develop a more clear digital strategy that benefits the customer experience interacting with their brands.
It's no surprise Samsung's enterprise solutions are catching the attention of CEOs. For example, they've committed to streamlining their healthcare and B2B divisions into mobile spaces. Granted, for some companies converting to mobile platforms may not be as easy if they're not properly funded.
In Samsung's case, they developed a five year plan to integrate these divisions over time. Doing so is a mission-critical step to building their technology infrastructure. Then adjust based on user demand.
https://www.computersupport.com/wp-content/uploads/2015/01/CES2015-1024x512.jpg
512
1024
Kirill Bensonoff
https://www.computersupport.com/wp-content/uploads/2019/08/StratusPointIT-ComputerSupport-logo.png
Kirill Bensonoff
2015-01-12 12:51:36
2018-01-16 13:18:49
CES 2015 Enterprise Technology Review