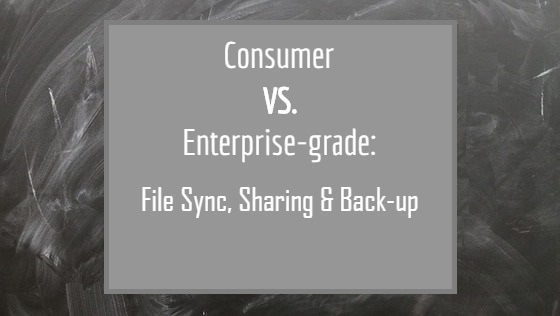 Consumer-grade file sync, sharing, and back-up solutions pose many challenges to businesses that care, and many cases are required, about control and visibility over their company data. At the same time, we work in an environment focused on accessibility and collaboration. Below are some of the biggest risks associated with consumer-grade solutions in a business environment, and why your IT business partner should implement an enterprise solution.
Data theft
Most of the problems with consumer-grade solutions originate from a lack of oversight. Businesses are not privy to when an instance is installed and are unable to control which employee devices can or cannot sync with corporate data. Use of consumer-grade solutions can open the door to company data being synced (without approval) across personal devices. With the explosion of BYOD, from phones, tablets, and laptops, exponentially increases the chance of data being stolen or shared with the wrong parties. In addition, spamming and malware being spread across organizations and holding company's data hostage has been in the news constantly.
Data loss
When a company administrator cannot manage and monitor file sync activities across an organization, they risk losing critical data. If an employee (or group of employees) adopts a consumer-grade solution and starts using it to sync and share sensitive files, administrators without proper oversight cannot manage data sprawl, initiate remote wipes in the case of lost devices or employee terminations, and are unable to guarantee that files are properly shared with the right people. It also provides carte blanche power to employees over the ability to permanently delete and share files. This can result in the permanent loss of critical business documents as well as the sharing of confidential information, which can break privacy agreements in place with clients and third parties.
Compliance violations
Many compliance policies require that files be held for a specific duration and only be accessed by certain people; in these cases, it is imperative to employ strict controls over how long files are kept and who can access them. We are now in the era of HIPAA, GDPR, and FINRA to name a few, and the control of your data has never been more important.
Allowing employees to utilize consumer-grade solutions can lead to massive data leaks and security breaches, as well as lack of compliance. With the proliferation of spam and malware in today's environment, it's imperative for businesses to protect their data, yet at the same time allow their employees to be productive. The best way for businesses to find this balance is to deploy a company-approved application that will allow IT to control the data, yet still grants employees the access and functionality they need to be productive. In addition, it's imperative to ensure your data is backed-up, secure, and you have a proper disaster recovery plan for any on-premise or cloud servers.
Contact one of our Customer Account Managers to find out how we help companies implement business IT support solutions that provide a safe, scalable, and secure file/data sync, sharing, and back-up.
https://www.computersupport.com/wp-content/uploads/2018/07/Consumer-min.jpg
316
560
Mihai
https://www.computersupport.com/wp-content/uploads/2019/08/StratusPointIT-ComputerSupport-logo.png
Mihai
2018-07-24 04:42:04
2018-11-22 12:23:05
Consumer vs. Enterprise-grade: File Sync, Sharing, and Back-up