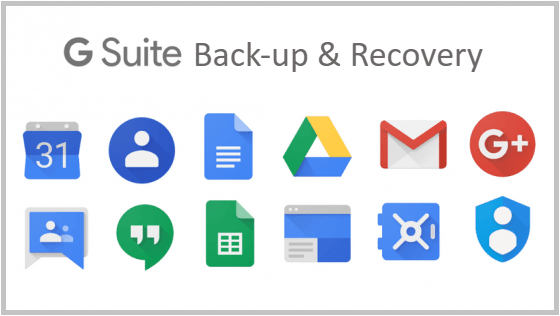 There are users who believe Google Vault is THE solution for G Suite data backup and recovery, but is it?
Firstly, what is Google Vault?
Google Vault is a native GSuite application that allows organizations to archive data, implement retention rules, preserve users by placing legal holds, search the organization's data using several search operators, review actions of Vault users through audit reports, and also export data for further processing.
Some Google administrators believe that Vault is a "good enough" solution to use for backup and restore, as well as eDiscovery and archiving. While Vault is indeed a good solution for data retention for legal needs, it doesn't meet the primary criteria for backup and restore, data availability and business continuity. In fact, Google notes that:
"If you delete a user, all the data associated with the user's account will be removed from Google."
So, Vault wasn't designed to perform rapid, granular restores because it's not a backup solution by definition; however, it can potentially restore lost data in certain situations.
The most important aspect when distinguishing Google Vault from a genuine backup solution is that Google Vault's main function is to archive and retain data so that it could be easily located in the future.
Intrinsically, backup solutions preserve data integrity by continuously producing a copy that may be replaced if the primary data is compromised. Attempting to use Google Vault for backup purposes will ultimately prove unprofessional because it would be inefficient and unsatisfactory. In any business, data availability is key, so restoring from a backup should be performed as fast as possible.
Does G Suite backup automatically?
Google does back up your GSuite data in order to guarantee that your data remains accessible but in accordance with their own internal backup and disaster recovery plans. However, these backups are not available to admins or end-users and exist just to safeguard Google's products and services from disasters, accidents etc. Therefore, Google doesn't protect your business data from intentional or accidental user deletion, programmatic errors, malware, etc.
How long Gmail will keep your emails?
Gmail will retain all emails that reach the inbox indefinitely, as there is no stated policy of deletion upon reaching a certain age. Bottom line, emails can be kept forever unless they are deleted by the user.
Once an email has been deleted, it will reside in the trash folder for a period of 30 days in which a user may recover the email before it is deleted permanently. Similarly, email that is identified as Spam by Gmail will be automatically deleted after a 30-day interval.
Can someone recover permanently deleted emails from Gmail?
GSuite admins may be able to recover the emails by using one of two ways:
Emails may be restored from the Admin console within 25 days of deletion. After the 25-day period, the data is removed forever.
Mailboxes (including deleted messages) from the past 30 days can be retrieved using the Email Audit API.
After 25-30 days, not even G Suite administrators can recover emails without a viable backup and recovery solution in place.
Get complete protection for your business
Having your GSuite fully backed-up provides a multi-layered approach to security against ransomware, compliance needs such as HIPAA, and advanced recovery features.
Unfortunately, it's a common misconception among SaaS/Cloud users that doing back-ups isn't necessary for their data because it already exists in the cloud. As previously mentioned, native GSuite and Office 365 apps don't protect business data against human error, phishing emails, malware etc. Ransomware attacks, especially in the cloud, are on the rise, and we all know how popular phishing scams have become.
Therefore, you need a dedicated solution to further improve the security of your business data. One that includes:
automated backups (at least once a day) that capture point-in-time (PIT) snapshots of each users' relevant app data, with the option to perform additional backups at any time.
unlimited storage space
detailed activity log with all administrator and user action records.
SaaS/Cloud providers protect your data from hardware failure, software failure, power outages and natural disasters while StratusPointIT can help protect business data from human error and malicious acts from internal or external sources. As a result, your GSuite data (Mail, Contacts, Calendar, and Drives) will be secure (data encryption both at rest and in transit), easily recoverable, and fully protected.
https://www.computersupport.com/wp-content/uploads/2020/02/GSuite-Backup-Recovery-min.png
316
560
Mihai
https://www.computersupport.com/wp-content/uploads/2019/08/StratusPointIT-ComputerSupport-logo.png
Mihai
2020-02-03 07:11:39
2020-07-30 05:48:10
GSuite Back-Up and Recovery