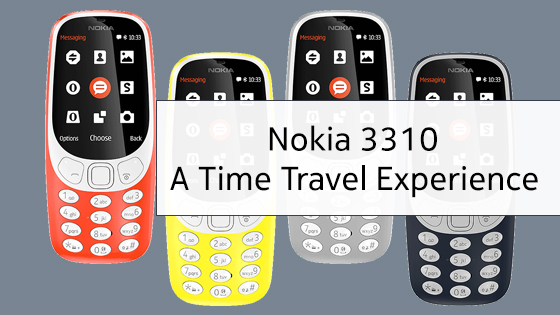 Nokia 3310 is a symbol of connectivity for most of us, as it has been the fanciest mobile phone in the early '00s. Recently, the Internet, this vast black hole of knowledge, gave the Nokia 3310 the "brand" it deserved. Websites like 9Gag or Reddit, and many others sharing "memes" always compared the Nokia 3310 with an indestructible weapon, as if made from Adamantium, that could even put down a Sith Lord. Some of us still question whether a Nokia 3310 can be destroyed by a light-saber, but if we think this logically, we all know the answer is no.
As technology develops with the speed of light, Nokia not only did a face-lift to an iconic phone, but managed to invent time travel and is taking us all in their time machine.
Release date
The new Nokia 3310 will be available on the market somewhere in Q2 (April-May), and the price is expected to be below 50$, an extremely low cost considering that the original Nokia 3310 is currently selling as a collectible on eBay for up to 1000$, while its original price when released on September 1, 2000, was of around 130$.
Lighter, thinner, comfortable, yet retro and old school
The look of the phone resembles original one, but is much more thinner and lighter: weighs only 79.6g, being much lighter than the original one which had 137g, therefore it is easy to carry around without becoming uncomfortable, making it quite perfect as a back-up phone, which is in the end, its real purpose. In terms of aspect, the new Nokia 3310 comes in the traditional dark blue and grey, but you can also choose from new, psychedelic yellow, or "warm red".
The perfect festival phone
Do not expect much from this phone in terms of apps or camera features. If you are a blogger expert in taking Instagram-like photos and all you can think of before having your morning coffee is how to position it better in a frame to post it on Instagram, this is not a phone for you, so you better keep using your Android, iOS or Windows Phone. The Nokia 3310 takes us back in time when a phone was meant to communicate, and not necessarily to make us all professional photographers, experts in macro, and coffee shooting. Some of us still enjoy having a normal coffee and eating our lunch without taking a picture of it, but do appreciate the long battery life that allows us to communicate without the fear of being disconnected from the world.
As life without a smartphone these days is extremely difficult, and we all do understand quite well the need of WhatsApp, Facebook Messenger, Instagram, Office 365, and many other apps that simply make our life easier, both personal and business wise, and give us the mobility we need, the Nokia 3310 is the perfect back-up phone to be used exactly for communicating… and Snake. It is the perfect back-up phone for long travels, festivals, extended parties, and in general for anyone who always runs out of battery, but still wants to be connected.
Old fashion brought to life: No Wi-Fi, 2.5G data-speed, and microSD card
The new Nokia 3310 has a 2.4-inch, 240 x 320 full colour display which is bright, but hardly crisp, and runs on Nokia Series 30+ Operating system, so no Android or Windows 10 Mobile. Can't get any more old-fashion, can you?
With the old-school feeling of the operating system you have the classics available, such as Call Logs, Contacts, Calculator and Messages joined by a calendar, a basic web browser, photos, radio, music player, voice recorder and a camera application. You also have access to an app-store for games and apps, but it was not yet functional when the phone was tested. The rumour says Twitter and Facebook might be available when released, but that should not get us over excited, as the new phone only has 2.5G compatibility, and without 3G or 4G data speeds, the result is a basic browsing experience, probably meant only for emergencies. Another important aspect is that many mobile providers stopped using 2.5G long ago, thus making the phone impossible to use in their network, and inaccessible for a great number of people. Unfortunately, Wi-Fi connectivity is not available, but it does have the classic Bluetooth, and a music player along with a 3.5mm headphone jack so you can listen to whatever music you copy on your microSD card and slide inside the handset.
In terms of storage, we have indeed traveled back in time, as Nokia 3310 comes with just 16MB of internal storage, pretty much enough for you to save a few photos taken with the 2MP camera (which has no flash, HDR, panorama mode or anything fancier). The low disk space is why it would be advisable to use a microSD card that can be inserted into the slot behind the rear cover.
Long battery life. Really long battery life.
With these basic features comes the battery life that is not basic at all. The iconic original 3310 was known for its long battery life (if you have one at home hidden in a drawer, if you probably switch it on now, the battery is still charged), so the new version needed to be just as good. However, it is better.
The phone comes with a removable 1,200mAh power pack, which is an instant upgrade over the 900mAh of the original, and due to the improvements in phone efficiency, the new Nokia 3310 offers 22 hours of talk time, and up to 31 days of standby. The original Nokia 3310 had 2.5 hours of talk time, and 260 hours (around 11 days) of standby, so this upgrade is extraordinary indeed. Another great aspect is the ability to charge it with a standard microUSB cable, making it easy to charge and find a charger for it.
Snake II can still haunt your boredom moments
Bored when waiting for the subway or a friend for dinner and your smartphone is nearly dead? Don't worry, Nokia 3310 will save you with Snake. The classic Snake II game available on the original phone has been upgraded and uplifted and included in the 2017 version of the phone. Called Snake Xenzia, the new game is developed by Gameloft and has a series of levels with various map layouts, and the classic survival mode where you get an uninterrupted square to ply your trade. However, you can play other games as well, such as Adrenaline, Diamond Twister 2, Doodle Jump and Drag Race.
Conclusion
Snake, battery life, old retro look that is perfect even if you are not a hipster, light & thin, and low priced, the new Nokia 3310 can serve a purpose for pretty much anyone, as it is an appealing option for those looking for a back-up handset, festival phone or just a simple novelty/retro buy. However, there are downsides: the "cheap" aspect of the phone coming from the plastic case, the 2.5G connection that makes it incompatible with a great deal of network providers, no apps, low resolution camera & screen, no wi-fi might make it a no-no. Buy it or not? That is for you to choose: if the retro look is more important than a wi-fi connection, then yes. If having 4G connection and beautiful camera is what makes you tick, then no. It all depends on your priorities and requirements from a phone. Good luck in making a choice.
https://www.computersupport.com/wp-content/uploads/2017/03/Nokia-3310-Comeback-–-A-Time-Travel-Experience.jpg
315
560
Raluca Neagu
https://www.computersupport.com/wp-content/uploads/2019/08/StratusPointIT-ComputerSupport-logo.png
Raluca Neagu
2017-03-09 06:18:50
2017-03-09 08:35:08
Nokia 3310 Comeback – A Time Travel Experience