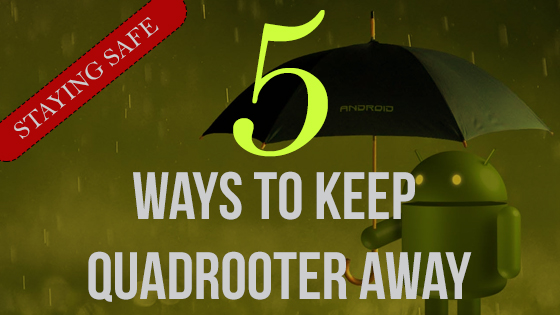 The Quadrooter has people on the edge – it is a security exploit that may potentially affect as many as 90 million Android devices. It is called Quadrooter because it used 4 different vulnerabilities to gain root access to phones that use Qualcomm chipsets.
Qualcomm is the most popular chipset manufacturer in the world, which makes this a huge exploit. The initial report by Checkpoint suggested that more than 900 million Android devices were at risk, but Google has clarified that 90% of the devices in question were already protected against 3 of the 4 vulnerabilities. The 4th vulnerability will also be fixed in the latest update. Here's how you can keep your devices safe:
Update your Android OS
Google fixes any exploits it finds in the latest updates. If your phone isn't using the latest version of the Android OS, then you may be at risk. Make sure that you install any available update. Updating may take some time but it is necessary – many more exploits and problems other than Quadrooter are solved in updates.
Don't side load apps
A great deal of power users on Android like to side load apps. Side loading refers to installing apps from sources other than the Google Play Store. The only way that Quadrooter can infiltrate a device is through a malicious app, so if you do not side load apps, you will be safe. This issue is being solved in the latest update – if Google thinks that an app is malicious, it won't let you side load it.
Do not install pirated Apps
This is something you shouldn't do even if Quadrooter wasn't a risk. It is easy to go online and find websites that have paid apps available for download for free. The problem is that it is difficult to determine whether the app is the actual original app, or if its code has been modified to be harmful for your device. You shouldn't be pirating apps anyway, as it is both unethical and illegal.
Use a mobile security solution
If you are using your Android device for business purposes, then you need to have a security solution installed on it. Don't install any untrustworthy scanner or anti-virus from the Play Store – you need something professional like Zone Alarm, AVG, Avast, or Avira. Get the paid versions of these apps to make your phone even more secure. If someone gains root access to your phone, they have the permissions to control each and every part of it. They can access your network through it, take away all your files, contact anyone they want, and much more.
Be wary when it comes to app permissions
Whenever you install an app, it asks you for detailed permissions. If you see anything unusual in the permissions, do not install the app. If you are installing a calculator and it asks for permission to go through your contacts, don't install it. An app should only ask for permissions relevant to its purpose.
Conclusion
As long as you take the above five precautions, you should be safe. HTC is the only major manufacturer which hasn't released a patch for their phones yet, and they are investigating the matter as well. Keep your phones updated and secure to keep them safe.
https://www.computersupport.com/wp-content/uploads/2016/09/How-to-keep-your-phone-from-Quadrooter.jpg
315
560
Raluca Neagu
https://www.computersupport.com/wp-content/uploads/2019/08/StratusPointIT-ComputerSupport-logo.png
Raluca Neagu
2016-10-06 08:01:32
2020-02-28 05:22:03
Staying Safe: 5 Ways to Keep Quadrooter Away