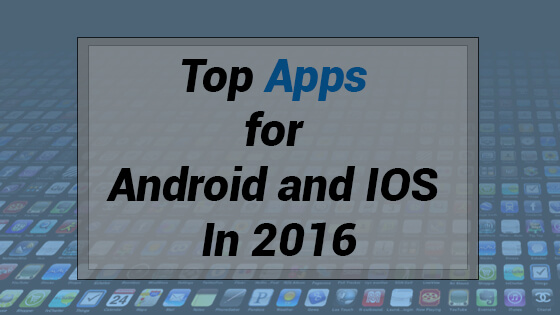 It looks like mobile apps are finally hitting maturity! Gone are the days when apps were simply games or gimmicks. Apps these days can legitimately increase your productivity and make your life better. Let's look at the best apps for Android and IOS in 2016.
The good news for Android owners is that Android is finally being taken seriously by app developers. There was a time when apps came first to iPhones, and Android owners had to wait months for the same apps. Let's look at some of the best apps for Android available right now:
Photoscan
All of us have old photos lying around somewhere. They may be in the attic, in the basement, or in a box in the bottom section of the cupboard. We keep thinking that we will get them digitized one day but scanning the photos through a scanner takes too long. Photoscan automates the process – all you have to do is place a picture in front of your phone's camera, move your phone as the app instructs, and you get a high resolution digital copy of the print. The app takes multiple images to remove any glare from the photos and makes them look professionally scanned.
AirDroid
AirDroid might just be the most useful Android app around. AirDroid allows you to easily access your phone from any web browser. If you need to transfer a file and don't have a cable, this app is a godsend. You can transfer files, see who's calling, reply to text messages, and much more – right through your browser.
DiskUsage
This very small app has a very simple function – it tells you how your storage is being used. It does a deep scan of your phone's storage and charts the use for you in a detailed manner. Very useful for when your phone is out of memory even though you think you have deleted everything. We once found out through this app that a game we had cancelled installation of had left behind a 1GB file, which was the source of the memory low messages on our phone.
Pocket
Pocket is a fantastic app if you like to read. It lets you 'pocket' anything for reading later. You can collect all the interesting things you run into and view them once you're home.
Best iOS Applications for 2016
Magisto
The key to a great video is in the editing. Magisto allows you to easily edit the videos you take with the beautiful iPhone camera into a work of art. The app is very simple to use and allows you to create engaging videos with just a few taps.
Day One
Day One is the perfect app for people who like to keep a journal. The app makes it as easy as sending out a Tweet. Simply enter whatever update you want and the app collects information and records it according to date.
Dark Sky
Dark Sky is simply the best weather app we have seen. Their predictions are accurate – you will often get notifications about arranging an umbrella if you're heading out and it will start raining in a few minutes. The app uses your location data to send you very accurate weather updates. It is also breathtakingly beautiful.
Waze
Waze just feels like magic at times. The app tells you much more than a normal map app. You get notifications about traffic, about things lying on the road, and sometimes even traffic cops.
These were some of the best apps for iOS and Android in 2016. Let's see what the developers come up with in 2017!
https://www.computersupport.com/wp-content/uploads/2016/12/Top-Apps-for-Android-and-IOS-2016.jpg
315
560
Raluca Neagu
https://www.computersupport.com/wp-content/uploads/2019/08/StratusPointIT-ComputerSupport-logo.png
Raluca Neagu
2016-12-21 04:07:45
2017-05-23 10:54:27
Top Apps for Android and IOS In 2016