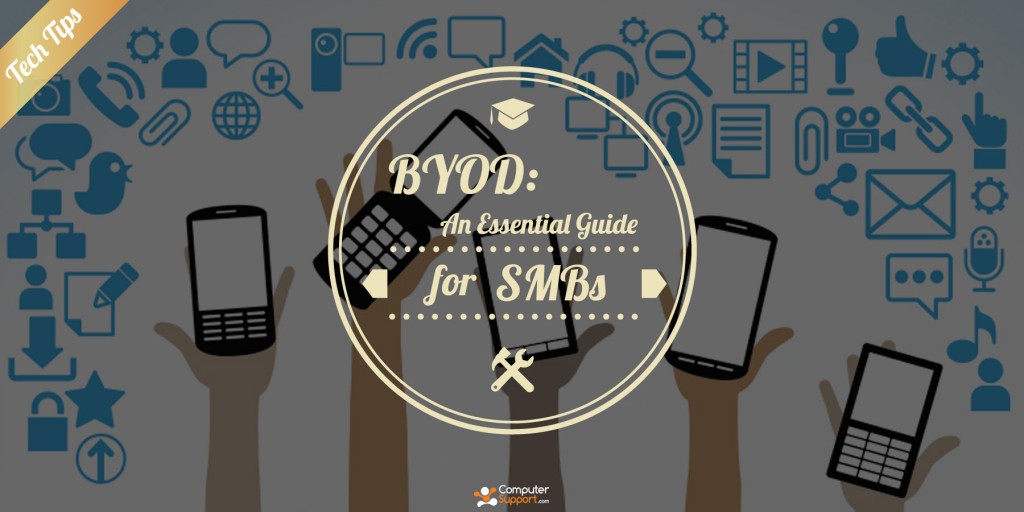 Last year we held a company-wide luncheon to discuss our new policies on BYOD (bring your own device). It's interesting how technology trends have changed in the last five years.
What was once considered taboo using your personal iPhone or Samsung Galaxy S4 at work is now encouraged by SMBs. Even our own IT managers were on the fence about adopting our new policy. Would our staffers spend too much wasted time staying in touch with friends and family using social media? Or worse: how would our security protection hold up against hackers?
Our BYOD Results
Many businesses fear what we did here at our own company. However, after more than a year, here are some of the benefits we experienced with our team members:
Client contact improved by 23%
Employees conducted more work at night and on weekends
Off-site communication improved by nearly 47%
Our staff felt more empowered using their devices freely
71% of our employees used both their personal smartphones and tablets
BYOD & Security
Recently a client of ours contacted us about our secret sauce implementing our own BYOD policies. They were curious how we managed our security compliance on personal devices. Here's what we did:
For the first three months, we approved business email communication between our staff and clients.
Our next step was to integrate Skype accounts on personal devices.
Lastly, our senior IT technicians gave our team members VPN access to internal files and documentation.
We developed three tiers of server access for personal devices. Clearly, there's too much risk opening up your entire network to off-site access. So it was mission-critical for us to limit access to certain files to our staff.
Cyber Attack & BYOD
Do you have 250 or fewer employees? If so, we recommend you first invest in an external security review.
In a 2013 research study conducted by Symantec, companies with less than 250 employees had a higher risk of cyber attack. Between 2011 and 2013, Symantec reports cyber criminals targeting small companies increased from 18% to 31%.
Why? Companies with 250 or fewer employees are far easier to infiltrate due to outdated security protection.
It's no surprise malicious hackers target small businesses for customer data and intellectual property theft. Our research suggests exposure begins with your entry-level staff and off-site contractors.
Many SMBs managers worry their technology will be at risk of hacking and identity theft. For obvious reasons, we recommend working with a proven outsourcing company to evaluate your current structure and then develop a safe plan to roll out your BYOD policy.
Every company manages their data differently so it's smart to analyze your current access gateways. Then develop a 90 day plan giving select employees limited access to your internal networks on their personal devices.
Go slow. You will discover in the first few weeks you'll need to update some of your encryption handling. It makes sense to provide your senior managers access as test candidates. Then evaluate the results.
https://www.computersupport.com/wp-content/uploads/2015/01/BYOD-1024x512-e1424397821383.jpg
300
600
Kirill Bensonoff
https://www.computersupport.com/wp-content/uploads/2019/08/StratusPointIT-ComputerSupport-logo.png
Kirill Bensonoff
2015-01-06 12:53:52
2018-01-16 13:18:18
BYOD: An Essential Guide For SMBs