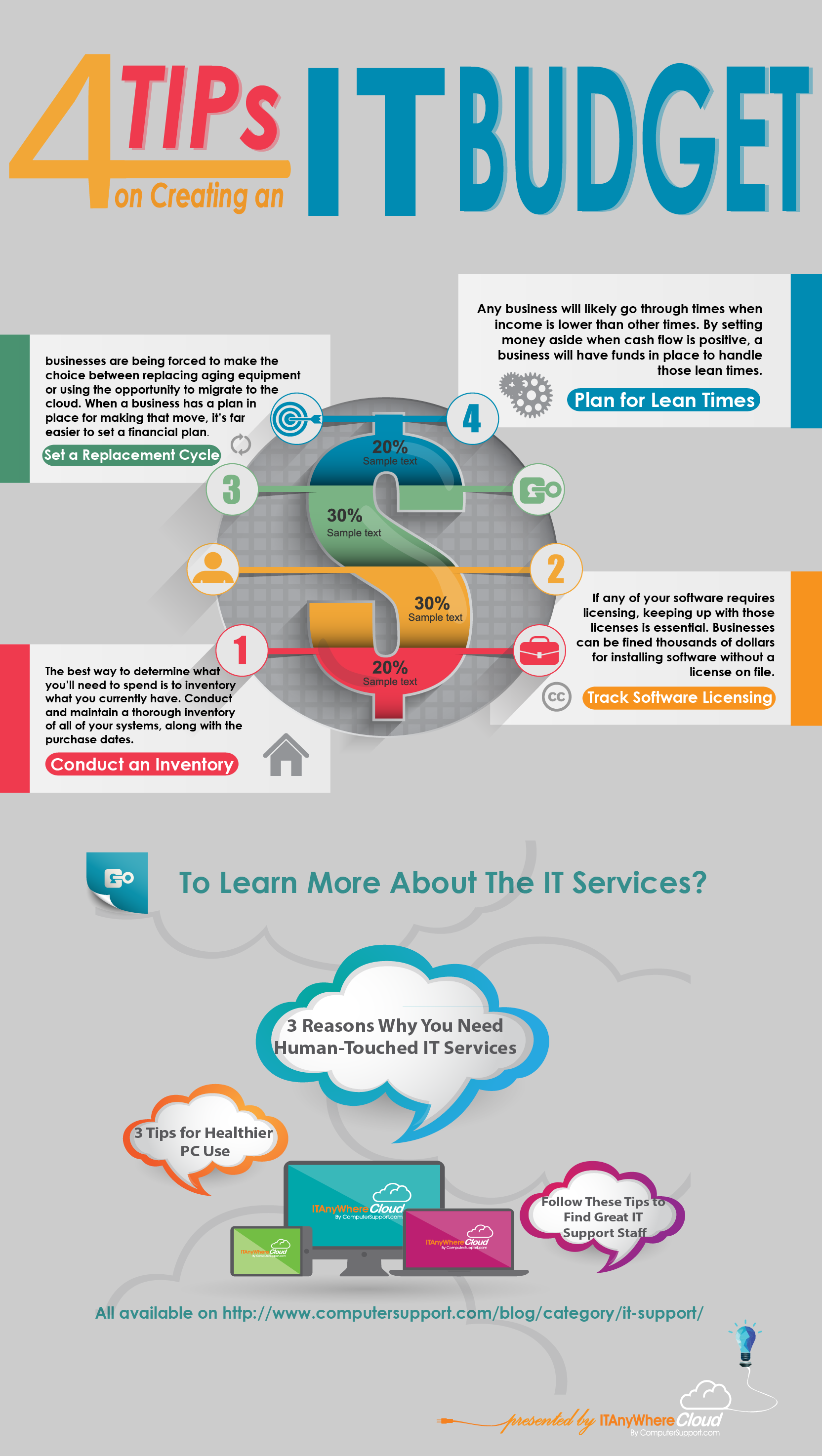 Information technology is the core of every organization, with a company relying on its equipment, applications, and documents to take care of customers and attract new business. But as time goes on, technology must occasionally be replaced or upgraded. To make sure your business stays on budget each year, it's important to create an effective, accurate IT budget that keeps your technology current without breaking the bank. Here are a few tips to use when creating your IT budget each year.
Conduct an Inventory
The best way to determine what you'll need to spend is to inventory what you currently have. Conduct and maintain a thorough inventory of all of your systems, along with the purchase dates. There are many software solutions available that will help you keep up with your equipment, along with reporting features that will extract equipment lists by purchase date.
Track Software Licensing
If any of your software requires licensing, keeping up with those licenses is essential. Businesses can be fined thousands of dollars for installing software without a license on file. Track each software license and budget money each year for software upgrade fees to ensure you're in compliance. As businesses increasingly go to the cloud for essential tools like word processing and spreadsheets, monthly fees will likely replace renewable software licenses, making budgeting easier.
Set an Equipment Replacement Cycle
As time goes by, it's easy to put equipment replacement off. Increasingly, businesses are being forced to make the choice between replacing aging equipment or using the opportunity to migrate to the cloud. When a business has a plan in place for making that move, it's far easier to set a financial plan for the next few years. For PCs, servers, and mobile devices, it's essential a business set up a replacement cycle to ensure equipment is replaced while it is still functional, rather than waiting until it begins impacting productivity.
Plan for Lean Times
Any business will likely go through times when income is lower than other times. By setting money aside when cash flow is positive, a business will have funds in place to handle those lean times. Unfortunately, many companies let equipment replacement and software upgrades slide during those tough times, leading to serious problems later. An office full of outdated equipment can drain productivity and lead to numerous unexpected failures.
IT equipment and applications take up a large part of today's business budgeting. It's important that organizations keep track of all hardware and software in order to ensure finances are set aside each year to keep the information technology infrastructure well funded.
https://www.computersupport.com/wp-content/uploads/2014/09/FI2-e1423513467998.png
397
600
Kirill Bensonoff
https://www.computersupport.com/wp-content/uploads/2019/08/StratusPointIT-ComputerSupport-logo.png
Kirill Bensonoff
2014-09-26 16:17:21
2021-06-23 05:29:30
4 Tips on Creating an IT Budget